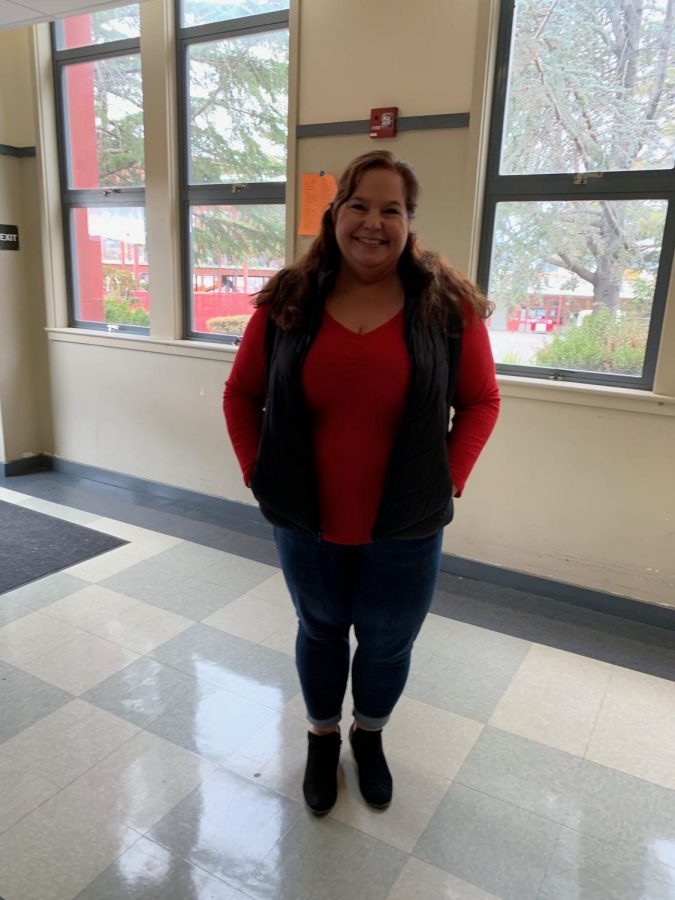 As an only child with her parents, Shawna Hoch had moved from South San Francisco to San Rafael. In the second-grade Hoch had just arrived in San Rafael, not knowing the strong relations she would create within her community in the future. Growing up as an only child had its downsides." I remember when I was a kid I would play board games with myself, I would set it up then switch places with myself," said Hoch. Growing up she attended Glenwood Elementary, Davidson Middle School, SRHS and then finally attending College of Marin. 
In middle school is where Hoch started to develop a passion for cheer. Back then, there were a couple of different segments of the cheer program. Later in high school, she was a part of the pep flag team where she would get to twirl different brightly colored flags. Similar to Colorguard but with shorter poles. During halftime shows the flag pep team and the cheerleaders would get to perform together. These teams did such a good job they even got to go to nationals in Southern California. 
Becoming a school cheer coach was never in her plans. Being a mom, she began to help her daughter Allie, find a sport she would enjoy. Later Allie went to try out different sports including soccer, basketball, and softball. After trying these sports it made her daughter realize she didn't want to play a sport where she would have to be on an opposing team, throwing balls in different directions. Cheer was another option her daughter chose to try out for. During the middle of the first game, many of the parents were unhappy with the quality of the dance routine. The coach saw this quit, walking off the field. The woman who was in charge of the team asked Hoch if she could fill in for the rest of the season. Without a doubt, she said "Of course" and ran the whole program for Central Marin the next eight-years.  
Now hear at SRHS she has been running the cheer department for her eleventh year running. It's amazing how some of her cheerleaders come in with no experience at all, then to their surprise, achieve such competitive success. She is passionate about the students here trying to make a meaningful impact in their lives by teaching them important life skills like determination, working hard to achieve a goal and having a good teamwork ethic ." I felt supported, she was nice to everyone on our team by checking in on us as individuals and our whole team. She was very on top of things making sure the team was always informed of what the week would look like" says former cheerleader Daniela Mendieta. 
Coming back to SRHS has made Hoch have a sense of nostalgia from being a student here, to having her daughter Allie attend and now coming to work at the student store. These days, recently she has been working at the student store since September. "Having her at school is weird, it's like having a family member at school… If I ever needed anything I can go right to her. I know that she will listen, defend and support me no matter what," says Izzy See competition cheerleader. Hoch is dedicated to helping students in whatever possible way she can. 
Her good friend Donna Romberger who coaches for the Terra Linda cheer team had told her about this new opening. Donna had this same job at TL but is now the accounting supervisor for the district. 
When asking Hoch, what high school like, she said it was similar to what it is today with a big difference " The teachers now seem much more invested in the students and their success. They are also more passionate about reaching every kid and helping them achieve their maximum potential," says Hoch. 
Before landing this job, for the past twenty years, Hoch worked as the administrative director at the Family & Children's Law Center, a local non-profit. Here she had a variety of responsibilities to do like human resources, bookkeeping, and fundraising.  
To others, Hoch is like a mother figure who they can trust and depend on. "She always looks for the best in people and tries to bring it out of them. Even if that day wasn't the best at the end of the day she shows that she loves you," states Camilo Gomez competition cheerleader. She gets to live the ups and downs with them and as the years go by she sees them grow not just as athletes but as a whole.