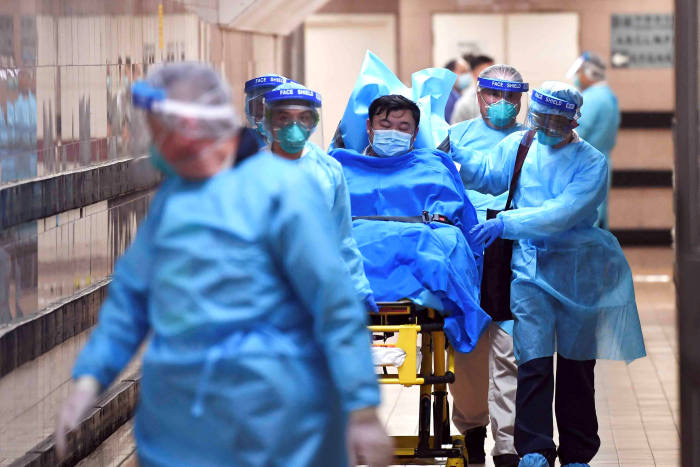 Editor's Note: This article was finished before the decision to deem Covid-19 a pandemic and widespread stock market volatility and school closures. It has been edited slightly to reflect that reality.
On December 31st of last year, the first case of the Coronavirus was reported in Wuhan, China. Three months later, the virus has led to a rising infection rate, school closures, and a national state of pandemic emergency. San Rafael residents (and all Americans) have been urged to stay at home and avoid contact with large crowds as much as possible.
An article on February 7 from the Marin Independent Journal released information that the first case in Marin was being hospitalized at Kaiser Permanente in San Rafael. Long before the news of school closures, how did students feel about their safety? 
San Rafael Senior James McNair said, "I'm not as scared of the disease as I am what it's doing to the market right now." This is warranted with so much business happening in and going through China. The economy is being greatly affected by the virus, with the DOW becoming very volatile over the past week. 
In China, businesses and schools are closed and the economy is running on home delivery of food and goods. On January 20th the number of reported cases was 282, and nine days later it had reached 7,800 cases. All of this resulting in the biggest quarantine in China's history. 
Senior Aisling Swayne originally told me she didn't feel threatened by the virus, but after I informed her there was a patient in San Rafael she was surprised. "Wow… that's a little close for my liking."
Symptoms of the virus include fever, cough, shortness of breath, and breathing difficulties. There are over 100,000 cases worldwide as of now. Most of these have not been life threatening, but the virus continues to spread rapidly all throughout the world. 
Junior at San Rafael Brian Gutierrez stated he wasn't overly scared of the actual virus. "I heard it only affects, like, older people and babies, so I'm not really trippin' about getting it."
Another student at SR, Grant Edgerton had similar thoughts, saying, "I don't know, I read it doesn't really affect teenagers and younger people that much and if it does then we probably wouldn't die from it."
There is sufficient evidence that the virus disproportionately affects older people. A study reported that 78% of the infected were ages 30-79 and only 8.1% of cases were teenagers or people in their 20's. Along with this, the study stated the death rate of people aged 10-39 was .2%.
Travel between certain countries have closed, warnings are issued on social media and in hospitals, now rumors have come about that the 2020 Olympics in Tokyo could be cancelled due to the virus. The Italian government is even ordering that all sporting events take place with no fans in attendance. 
Marin County Public Health Official Dr. Matt Willis explains, "As we look across what's happening globally and what's happening locally here in the Bay Area, it's likely that we'll see community transmission of the virus here in Marin County," and that, "at this stage, it's about preparedness." 
Marin General's guide to limit spread of disease include washing hands with soap and water, avoid touching eyes, nose or mouth with unwashed hands, and simply avoid contact with people who show symptoms of sickness. 
Most students I asked seemed unafraid, but now that there have been 14 deaths in the U.S and multiple cases in Marin County, their opinions could change.