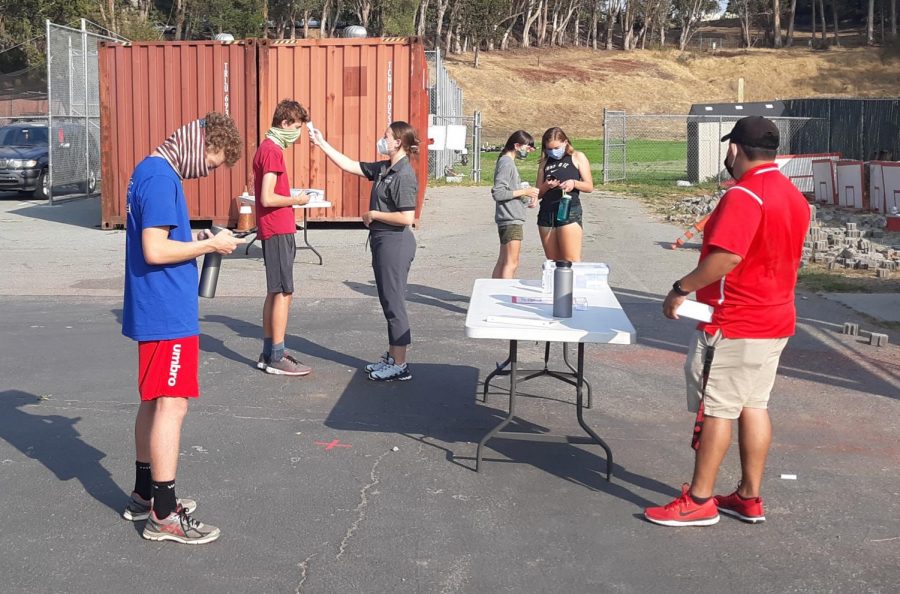 On Tuesday, September 15th, masked students waited in line at San Rafael High School under the blue sky as staff checked their temperatures. It was the first day of "Summer Extended Athletic Cohorts," the new official plan for sports this fall season. 
Standing outside in designated meeting points, the students scanned a QR Code leading to a health survey on their phones and recorded their temperatures, all while maintaining a six foot distance. 
"I hope [the cohorts] happen and I hope it's successful, because I don't want it to be shut down," said SRHS senior Levi Woodall participating on the first day of the event. 
Athletic cohorts are groups of 15 students who practice together apart from other groups. The cohort system has allowed a large number of students back on campus for the first time since the school shut down on March 14th due to Covid-19. 
The SRHS sports season depends on the cohorts successfully avoiding a coronavirus outbreak. For many students, sports are a key way to learn, have fun, and get exercise — all the more important since they combat the demoralizing effects of having a long term lockdown in place.
Athletics at SRHS experienced its first test during the summer, when the cross country and football teams decided to hold pre-season training. 
Cross country's practices were canceled after 2 weeks when the number of Covid-19 cases in Marin rose.
On the other hand, the football team was able to successfully hold 6 weeks of non-contact training and conditioning practices without any known coronavirus cases on the team. The practices ended when the decision was made to change the timing of the sports seasons in California.
"It's frustrating for everyone, but hopefully there's a light at the end of the tunnel," said Mark Lubamersky, the football coach and a parent at SRHS. "But I'm excited, just being able to start hopefully getting things ready to play." 
On July 20th, the California Interscholastic Federation (CIF) announced a modified sports season this year for high school athletics. The new schedule will push fall sports' starting dates to the winter season, and push winter sports to the spring. In order to make this modified schedule work, the CIF temporarily removed laws prohibiting an extended summer season and students from playing more than one sport at a time. 
This modified season places both winter and spring sports in the same time period, posing a looming problem for both school staff and multi-sport athletes.
"Logistically, that's just a nightmare," commented Jose de la Rosa, the athletic director at SRHS. "The overall amount of sports that we're going to have on campus at the same time, and having to take care of all the overlap and timing that goes on… it's not necessarily the best solution, it's just something that we are going to be able to offer them in order to make sure they are able to play their sports." 
Mr. de la Rosa added that while San Rafael High School has two fields and a lighting system, other schools are not so lucky. For those schools, scheduling the 5 or more events per day in the spring season will prove even harder.
Students are also concerned about the spring season. Tenley Brovelli, a sophomore at SRHS, plays basketball, volleyball, and lacrosse. "It's obviously disappointing that I'll have to pick and choose between them."
The cohorts in the fall are taking the place of the usual pre-season training that would be spread throughout the year. They are available for all sports that have coaches able to participate. According to the SRHS athletics webpage, their purpose is "to safely allow students to work out and condition with their teams."
The three different sets of three-week long cohorts, with a week-long break in between sets, will continue until November 28th, two weeks before the start of the "fall season" in December. Cohorts will have a 15 student maximum and a specific route for entering and exiting campus to minimize contact with other cohorts.
These rules are based on the coronavirus safety guidelines from local and national authorities, but despite these measures, Mr. de la Rosa admits that an outbreak is possible. "Do we need to be prepared for it to happen? Yes." 
Mr. de la Rosa is also taking into account the high number of coronavirus cases in San Rafael. "I think as long as we take all the safety precautions and we try to minimize risk and minimize contact… if an outbreak happened, it would only happen within your cohort."
If a large outbreak does occur, then sports and school reopenings might be postponed even further. High contact sports, such as football, are especially at risk for outbreaks and changes to the season.
"There is so much uncertainty, anything could change between now and the start of the season," said Mr. de la Rosa. 
Many students and parents are aware of this risk, but feel that it is also important to have the socialization and exercise that come with playing a sport.
"We want to make sure our kids are safe and we want to make sure that people who are in charge of the programs are really staying on top of procedures and the protocol," said Yvonne Fox, the parent of a junior at San Rafael High School. "I just want them to be involved and healthy."
Her children have participated in various sports camps and clinics this summer, each with slightly different safety measures regarding masks, social distancing, and shared equipment. None of the sports functions had any known coronavirus cases. 
Bella Bowler, a student athlete and senior who plays volleyball, basketball, and softball at SRHS, lives with her grandparents and worries about bringing the virus to them. "There are some people who don't take this very seriously," she said. "I think it will be fine if people take the proper precautions."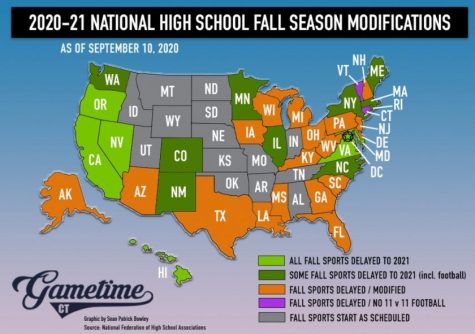 Other high schools in the US are taking different paths for dealing with the coronavirus. While most states have decided to have a modified or delayed season, a large amount of states are continuing high school sports as usual. On the opposite end, some states have decided to completely cancel high contact sports such as football for the year. As covid case rates change and more is understood about the virus, however, plans for this year continue to change as well.
"It's just nerve wracking to know that I don't know what will happen," Bella Bowler said. "Most athletes, especially seniors, are just worried that it's not going to happen and not being able to finish their high school careers." She says that the pandemic has affected her mental state and built up more stress.
Health experts argue that sports may be an important way to relieve that stress. According to the National Institute of Health, youth sports increase fitness, decrease depression, and develop fundamental life skills. Although the cohort system is not ideal, it at least provides a safer way to regain normalcy and some of the benefits of playing sports.
"Sports have formed who I am, in a way, as a person," said Bella. "Being active and having a great time, what's better than that?"