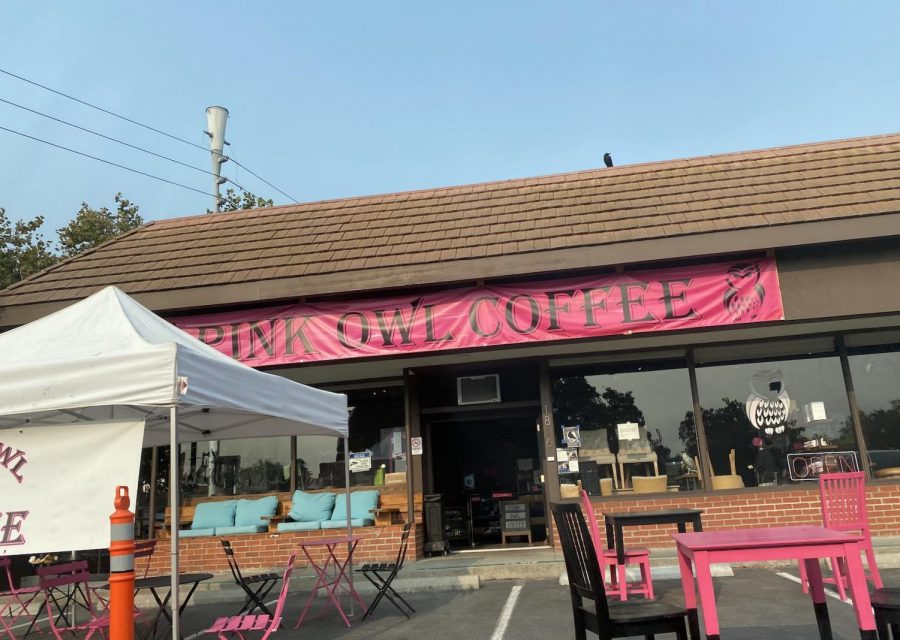 In mid-May, a few San Rafael Police Department officers belonging to the San Rafael Police Association (SRPA) handed out Blue Lives Matter flags to 22 small local businesses. 
The Blue Lives Matter flag consists of a thin blue line in the center of the black and white flag with 50 stars on it, representing the United States. 
Saandra Bowlus, one of the owners of Pink Owl Coffee, a small business located on 2nd Street in San Rafael, said "We were victimized by the system. We do not support Blue Lives Matter." 
The Blue Lives Matter flags that the SRPA handed out were meant to show support for fallen police officers due to the Covid-19 pandemic. According to the San Rafael Police Association, officers only handed out flags to businesses who were willing to put them up for support. 
Officer Zach Brickell said, "We will be the first to condemn and criticize any misuse of the thin blue line flag and are disgusted when people use it to promote hate." 
Some people believe that tthe Blue Lives Matter is used to spread hate towards people who believe that Black Lives Matter. In social media posts regarding anything related to the Black Lives Matter (BLM) movement, there are always comments stating that "Blue Lives Matter" as a rebuttal. 
Stephanie Martens, co-owner of Pond Farm Brewing Co, said that the SRPA asked them if they could hang a flag on their window during "Police Week" to honor officers who had lost their lives in the line of duty. They agreed, and hung up the flag on their window for a week. At the end of the week they ended up taking down the flag. Martens disclosed that they found out the disturbing symbolism the flag had for many after they had already taken it down. Martens continued by saying, "We support racial justice and the Black Lives Matter Movement and we are deeply regretful for hanging the flag in our window". 
According to the Black Lives Matter page, Black Lives Matter is a political and social movement advocating for non-violent disobedience against incidents of police brutality and racism. The BLM movement has been going on for years to stop the racism against Black people or any BIPOC. Recently, there have been several BLM protests here in Marin County after George Floyd, a Black man killed during an arrest in Minneapolis. The BLM movement began in 2013 with a use of a hashtag on social media after the death of the teen, Trayvon Martin. 
The so-called "Blue Lives Matter" movement started in December 2014, after the deaths of the NYPD officers Rafael Ramos and Wenjian Liu in Brooklyn, New York. According to Thin Blue Line USA, the meaning of the thin blue line flag is flown to show support for the heroes in law enforcement. 
The SRPA handed out these flags with a thin blue line in the midst of BLM protests when people saw these flags in businesses they lost customers and gained lots of backlash on social media. Some think that the businesses are to blame because they should have researched or asked the SRPA more questions about the flag before putting it up. Pink Owl put the flag up because they thought they were supporting police officers who died during the Covid-19 pandemic. They did not know the controversy surrounding the flag. After businesses found out what the flag meant for many. they automatically took down the flag.  
Gail Seigel, Marin resident, thinks social media is partial to blame. Siegel said, "People on social media see a Blue Lives Matter flag and automatically assume one is a racist; people on social media need to use critical thinking before making a big assumption." 
A San Rafael High School senior, Josue Oviedo, stated that social media is to blame and that the businesses should have asked the officers more questions before choosing to put those flags up. 
Oviedo believes that SRPA needs to be held accountable for their actions even if they didn't mean to cause any damage. 
San Rafael Police Chief Diana Bishop said she did not know that the SRPA decided to do this. She ensured that the SRPA had good intentions but thought it was not a good idea for them (SRPA) to go out and do that.
"For some that flag can be seen as an anti-black symbol," Bishop said. She added that the SRPA did talk to some of the businesses that were affected but she is not sure if they apologized. Bishop explained that social media is partially to blame because more people see it and become aware and make threats without knowing all of the facts. 
SRHS senior Kimberly Alcantara said, "At SRHS, there's a great amount of students that don't support the topic of Blue Lives Matter." Numerous students and staff say that SRHS is a school with lots of diversity. Although, the majority of the students are part of the Latino/a/x community. Alcantara added, "A lot of people dislike the way cops are acting. SRHS students know better and should not support something like that." Cops have been seen by many historically as a threat to BIPOC communities.
"We don't need a competition," said Gail Seigel. "But we're not saying blue lives don't matter."