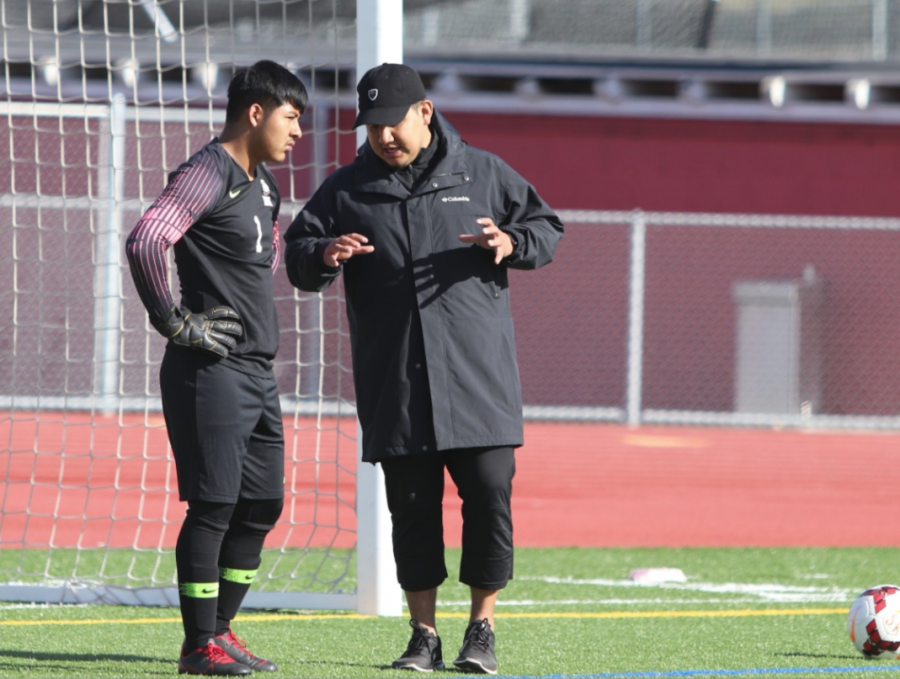 It's halftime. The score is 0-0. San Rafael is playing away, against the number one seed in the county. The team bundles together, arms around each other's shoulders. Sweat dripping from both players who were on the field, and those screaming their lungs off on the bench. Jose De La Rosa stands in the middle, delivering what could be his last team talk of the season, as he tries to get the players through their first-ever NCS quarterfinals. 
After a tiring 45 minutes, the game remains goalless and it goes to extra time. The next team to score wins. The players are drained, legs are shaking, yet Jose stands in the middle once more. He delivers another passionate speech, preaching to the players. It seemed as if he was praying to the soccer gods. Captain Max Diaz scores, and San Rafael qualify for the first time in the school's history.
Jose De La Rosa was born in Mexico and moved with his parents to America when he was 2 years old. He grew up in the Canal, went to San Pedro Elementary School, Davidson Middle School, and then San Rafael High School, and has been part of the community his entire life. 
During high school, Jose played varsity soccer all four years. "I loved sports. My life was about sports at that time," Jose says.
After high school, he attended San Francisco State University and got his business degree in business administration with a focus on management. 
At this point in time, his little brother Erik was a junior attending San Rafael High School. Erik, following his brother's footsteps, was on the varsity soccer team. The team was talented, but couldn't get it together in time for the playoffs. The coach was stepping down so Jose along with fellow coach Johnny Vara applied for the job. Jose has been a varsity assistant coach ever since. 
"I couldn't get away from sports. I love San Rafael sports. I really enjoy being a part of the team," says Jose.
During his first season, Jose got really involved at the school. "I started going to the athletic booster meetings. I did the management part of the team, setting up fundraisers, ordering supplies." At around this time former athletic director, Tim Galy was stepping down and insisted that Jose would take his place.
Encouraged by family and friends, Jose decided to take a risk. During this first year, Jose would be the second-youngest athletic director in California at 23 years old. With no experience, he was jumping into it, right as San Rafael began constructing its new track and field.
On top of that, he would take a major pay cut. "The Athletic Director position is part-time with full-time work," Jose says. "In the end, it felt like it was the right thing to do, come help my high school. I take pride in that, helping the kids from my community."
Jose's first year was difficult, having to organize every practice without a track and field, with no prior experience about the job. When times got rough, he would look up to a sticky note on a wall of his office.
It says, "Remember why you do it." 
When asked what his motivation was, he responds, "I do it for my community. I really love San Rafael High School."
From just one look at Jose, whether it's outside, in a hallway, or playing soccer on the field, you can tell just how much San Rafael means to him. During the interview, Jose used the word "love" more times than I could use in this profile.
Jose always has a smile on his face, unless he is losing to Terra Linda, San Rafael High's biggest rival. One soccer practice, a player mishit a bouncing pass and kicked the ball directly into his face at a close range. The team went silent, no one daring to laugh. The players looked at the endline begrudgingly, thinking that sprints were coming. Instead, Jose laughed it off and continued playing as if nothing happened. His love for the school can even go past getting hit in the face.
Jose is determined to "give back to the community." This year he is currently getting his teaching credential for physical education at Sonoma State. This, however, has made his schedule even busier.
"It requires a lot of time right now," he says. "It's been very difficult." Jose is doing constant work, starting at 9 am and ending at around 9 pm taking only Sunday off. He starts the day checking emails. He then tries to get all of his studies out of the way before he uses the remaining time to work as Athletic Director, who is in charge of every sports-related decision happening at the school. At the same time, he is also coaching varsity soccer twice a week.
Luckily for him, Jeremie Brunet, assistant athletic director, plays a big role in how he is able to handle such a heavy workload. "He's very very organized. He's someone who gets the work done to get all the rewards after," says Jeremie. 
After working together for five years, the two have developed a strong friendship. "He's been a mentor to me. He's really encouraged me to become my own Athletic Director or do whatever I can in order to teach and help," says Brunet
Over the past three years, San Rafael have added a brand new stadium, a boys freshman soccer team, a girl's freshman volleyball team, a girls golf team, and a girl's lacrosse team, largely due to the help from Jose and Jeremie.
Jose has this drive, this willingness to work hard for something he's passionate about. His attachment to SR is all he needs to justify the amount of work he puts in.
Jose's love for the school reflects onto other people. He is here because he cares about his community. He hopes that by growing the community, little by little, it can develop into something bigger than just SR. So that one day, it can turn into a family.