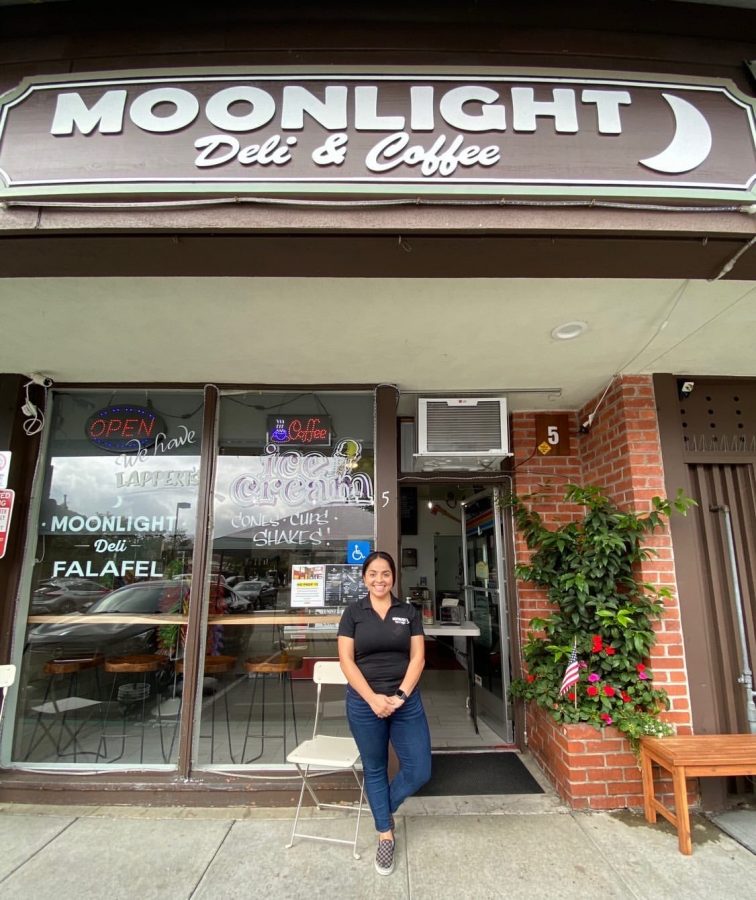 Note: This story includes reporting by Nick O'Halloran
Betzy Decker sat quietly with her newborn baby when her husband, Domingo Cruz came in excitedly and urged her to come with him on a car ride. Despite doctor's orders she nervously got in the car. A few minutes later, Domingo Cruz pulled off 4th street and parked in front of Moonlight Delicatessen. 
The place was small and a little old-fashioned, but it had character. Domingo Cruz explained to a surprised Decker, "It's all yours." Decker always dreamed of opening a café or deli so she could bring people together. In the coming months, Decker and her husband would completely renovate the little deli. In August of 2019, Moonlight reopened under the new management. 
Betzy Decker has lived in San Rafael ever since she moved from Guatemala at eleven years old. Decker lived in the Canal for most of her years in school and struggled to learn English. Attending Davidson as an incoming 7th grader, Decker was often bullied for her problematic language barriers. 
Decker explains, "I came here with no English at all. I would be all the way in the back of the bus." On the bus, other students bullied Decker for being a newcomer and not adapting to the social norms. However, the abuse Decker received was a driving factor in her determination to learn and succeed. She adds, "It was a great challenge, but I don't see it in a bad way." After mastering English and overcoming the hardships of a non-native English speaker, Decker graduated from San Rafael High in 2008.
After high school, Decker received a degree as a CNA (certified nursing assistant), but the job offer came with terms and hours that didn't fit Decker's lifestyle. She transitioned and decided to work in the food industry at Lappert's Ice Cream in Sausalito and then at Cable Car Coffee in Mill Valley. 
After taking some time off to have a family, Decker was ready to jump back in. She still dreamed of becoming a business owner, so her husband purchased Moonlight Delicatessen, allowing Decker to follow her passion. 
Decker loves running Moonlight. She is often behind the counter taking orders and sparking up conversations with her customers. "I always wanted a place where I can do customer service. I like to help," Decker explains. 
In the past two years, Decker has established herself within the San Rafael community. She spreads cheer through her smiles and delicious food. High School Senior Ryan O'Hagan describes Decker's charm: "They are all very nice, but Betzy is the one that you just always remember. She makes you feel important." Similarly, SRHS graduate Gibson Hoch said Decker was "the most genuine person [he'd] ever met." Decker enjoys serving high school students because she can relate to their struggles and needs. "When they come here, I know that they want to eat, and they want to eat something good," she adds.
Moonlight draws in high school students who use their lunch break to grab a warm, handmade sandwich. Decker also offers San Rafael Seniors a special discount on Yerba Mates, a student-favorite caffeinated drink. This incentive further drives students to Moonlight's open doors.
Recently, when the coronavirus hit Marin County in March, Decker found her business overwhelmed with deliveries. In response, several San Rafael High School students pitched in to help her out. While they received free meals and a little money, the main reason the students chose to help out was because they considered Decker a friend. 
During these problematic times, Decker also began offering free meals to police officers and other first responders as a means of giving back. San Rafael Police Officer Lynn Murphy commented on Decker's character, "I'd say that she is truly a person who wants to give back to her community. Betzy takes the time to check in with her customers. You can tell that she makes her food with love." 
Decker's warm embraces with others stick with people. Her compassion for others and generosity to the community brings people back to Moonlight. Decker adds, "I treat people with respect and kindness, and they do the same. Even if it's small talk, I like to ask people how their days are going, because I care."
It's clear that Decker values the San Rafael community. When I asked her why she has stayed in San Rafael so long, she responded, "There is nowhere you can find a place like San Rafael. This is home."
Decker hopes to expand and open a sister deli soon. "I have been able to help my community. I love it. And I'm ready for my second one."