UP Program Advisor Michael Gomez Loves Helping Students Even More Than Playing Soccer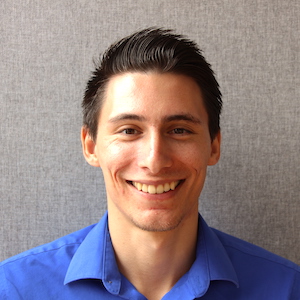 It's rare to walk into the Canal Alliance UP program without being welcomed by the high school supervisor. Michael Gomez, a 25-year-old Dominican University graduate, not only enjoys playing soccer, but loves watching students grow up to graduate from high school.
Michael grew up in San Bernardino but eventually moved to Redlands. His parents were divorced so he mainly lived with his mother and older sister. He grew up in a low-income household which meant that his mom was out working a lot. Luckily, his grandparents took care of him when she wasn't around.
When he turned 8 years old, he began to play soccer. It quickly formed into one of his biggest passions. "My mom was always supportive of the hobbies I have and the things I did. The biggest thing that I did was soccer," he said. He made varsity in his freshman year of high school and continued to play as much as he could.
Michael has other hobbies which he enjoys. He likes to draw, write poetry, and does wood carving.
As college was approaching, Michael wasn't set to going anywhere in particular. He just knew he wanted to play soccer. He was offered to play at Upper Iowa University. He immediately took up the offer and moved to Iowa. He majored in Education. After a few months, he realized that Iowa wasn't where he belonged. "Iowa is very different from where I grew up. It was very very white and very very rural and neither of those really fit me," he said.
After one year at Iowa, he transferred to Dominican University. He adjusted to Marin and although he still didn't really like the environment, he liked it better than Iowa and enjoyed the school more. He decided to stay and played soccer for Dominican University.
Michael discovered Canal Alliance through a service learning class that he was taking. "I've always wanted to be a teacher and I've always wanted to help students like the community I grew up with, which generally means students of color in low-income households," he said.
He began as a volunteer but after one year, he was offered the position as a math/science tutor and worked as one for three years. As he worked at the program more and more, his passion for helping students began to overlap his passion for soccer.
He had just graduated from college when the previous high school supervisor of the program had to leave. Given his experience and his degree, he was the perfect fit for the job position. He has been the high school supervisor for the past two years.
Michael is appreciated by his students because not only does he help them academically, but he also connects with them on a personal level.
"Michael is a very helpful and relatable person. When I tell him personal things, he doesn't judge me. I just think he's a very approachable and kind person," said Ailyn Martinez, a senior in the UP program. Ailyn has known Michael since she was in 8th grade. "He actually seems to care about what he does and He always pushes me to do better because he knows that we're capable of it,"
He checks up with students on sports, hobbies, personal issues, and much more and really likes to get to know his students. "I view Michael not necessarily as a high school supervisor but as someone who can help you take the right path and as a friend," said Marina Lopez, a senior at the UP program.
An alumni from the program is very thankful for Michael and for everything he's done for her. "I think Michael is an incredible person. He's the GOAT! He's so nice and super helpful," said Annette Bautista-Gramajo. He tutored her with math/science, helped her apply for colleges, and she's now a freshman at UC Santa Cruz.
His coworkers can also tell that he just enjoys his job. "Michael is very involved in the community. I think he really cares about helping others. He's very hardworking, helpful, and supportive," said Ms. Garcia, the college advisor for the UP program.
"He is very passionate about the work that he does here working with our students. He really cares a lot and just wants all of our students to succeed and do well in life," said Mr. Velasquez, the manager for the UP program. Michael dedicates so much time and effort into his job to make sure that students are doing well academically and emotionally.
At the end of the school year, Michaels hard work really pays off when he attends the high school graduations. "At any graduation, Michael is potentially the first one to start crying and getting emotional. It demonstrates all the hard work he's put into working with students," said Mr. Velasquez.
"Working with students and watching them walk across the stage at graduation is the biggest privilege and the biggest pleasure of my whole life. I love soccer, I thought it was going to be my biggest love but watching students grow up beats it," said Michael.
Michael brings a light into the program and always shows up with a positive attitude. He is someone you can rely on and he always offers to help in any form he can. He cares about the community more than anyone can think.