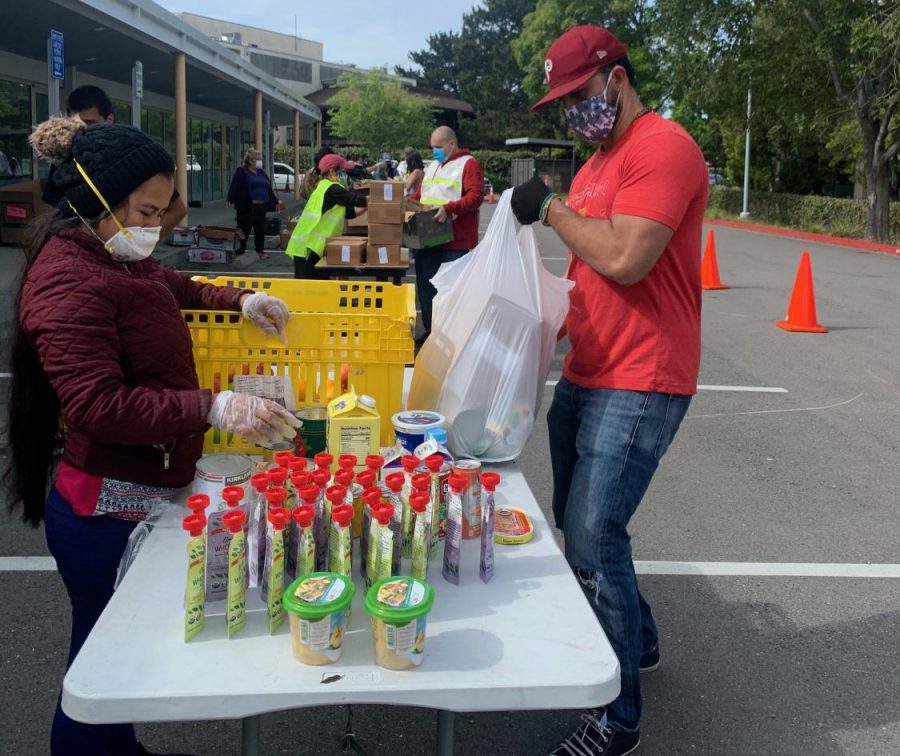 La Comunidad Que Nunca se Rinde
June 7, 2020
Behind the million dollar houses that make up Marin County, the Canal neighborhood is a quaint yet diverse area within. In a community centered around diversity and perseverance, the low-income area is designed to shelter and nourish many of the incoming refugees and Spanish-speaking natives seeking a community that connects them to home. 
The American Dream is a familiar concept for Marin County's Asian, Haitian, and Latinx residents. The community that is heavily inhabited by first-generation students and parents who only speak their native tongue already face challenges. Due to COVID-19, the pandemic sweeping the world, many of these families have been left unemployed and unable to claim unemployment due to immigration status. They are also the most at risk of contracting the virus. In fact, based on information from the Marin Health and Human Services, the Marin Independent Journal reported, "55% of the 450 people who had tested positive for the disease in Marin County were Latino, even though Latinos account for only about 16% of the county's population." This puts the residents of Canal in uncontrollable situations.
"I am lucky enough to be working, and to be able to have two jobs in these particular times, I am beyond blessed," stated Karina Gomez. Ms. Gomez is a Canal resident, a mother of two, and recent asylum seeker from Guatemala. 
Ms. Gomez is an essential worker juggling two jobs and two teenage boys. Next year, her youngest, Jonathan Gomez, will be a freshman at San Rafael High School.
Traveling from Guatemala City in the fall of 2018, Ms. Gomez has faced tremendous adversity. From struggling emotionally from the pressures of crossing numerous borders to struggling to adapt to American culture, Ms. Gomez has faced more struggles at a young age of 38 than most have. Since the virus and the loss of her husband's job, she has been commuting from a grape-harvesting farm in Napa Valley to her second job as a food handler at a local business in Larkspur. Due to her privacy, her place of work shall remain unnamed.
When asked if the possibility of contracting the virus scared her, she simply responded, "A job is a job. I have to pay for this month's rent somehow."
Ms. Gomez is just one of the many essential workers who do not have the socioeconomic status to be able to work from home or have the luxury of being able to collect unemployment. For many of the Canal residents, collecting federal unemployment is impossible due to the fact that many do not have a U.S. Social Security or fear that receiving any sort of government aid now will bring up challenges and weaken their case when pleading to become U.S. citizens in the future. However traits of resilience and kindness speak volumes within this tight-knit community of hustlers.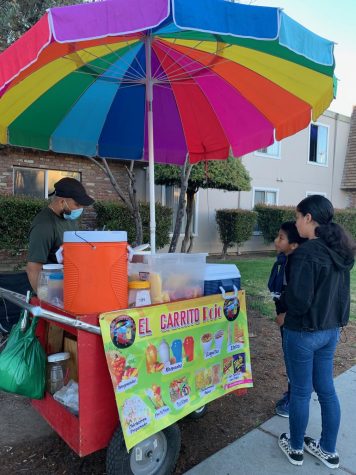 Ulises Graciano is a young man who owns El Carrito Rojo, or The Little Red Cart. He has been located on Kerner Boulevard in the Canal neighborhood for over three years. As a self-employed entrepreneur who is an active member in the community, his daily revenue has plummeted since the outbreak and the subsequent shelter-in-place. In an attempt to stay safe and abide by the shelter-in-place orders, Mr. Graciano sets up his rainbow-colored umbrella and parks his wooden red cart only two days a week for limited hours. Like many of the residents in the area, Mr. Graciano has a job to do in order to survive. By serving fruit with Tajín or Tostilocos, a popular Mexican treat that consists of Tostitos tortilla chips topped with cucumber, jicama, lime juice, hot sauce, chamoy, Tajín, and Japanese peanuts, he has the power to bring this popular Latino street dish to the people and make a large part of the community feel at home.
"Recently I had a customer that was experiencing symptoms of illness for about two weeks," shared Mr. Graciano."They explained to me how their sickness was not clearing up, on the contrary it was getting worse. That man is now awaiting the results of his COVID test."
Out of hundreds of workers in this neighborhood, Ms. Gomez and Mr. Graciano are just two examples of hustlers who never give up. Like many, they encompass the mentality and the motivation that allows them to keep working harder, many of them with the sole purpose of striving for a better tomorrow.
When belonging to a low-income neighborhood, it may be tough to get access to the needed resources in times of struggle and worldly mayhem. However, for the community of Canal, when times get tough and challenges are thrown at the people, they unite stronger and more determined than ever. This community puts up a united front in the face of adversity, always honored and proud to support any and all families.
By seven in the morning, one can hear the sounds of unloading trucks. SF/Marin Food Bank, alongside ExtraFood, Conscious Kitchen, and congressional churches, help provide healthy and fresh food for the residents of Marin County, specifically the Canal community. The Multicultural Center of Marin (MCM) works together with these companies and multiple volunteers weekly to help prevent hunger in the community.
Adrian Aragon, Youth Outreach Specialist and Food Distribution Coordinator, is going on his third year with the center. Every Saturday morning, Mr. Aragon is ready for action and a long day ahead of him. On a typical day during these unprecedented times, the Multicultural Center of Marin can serve up to 600 families in the Canal neighborhood. Although the center serves all of Marin County, 80% of the families that receive the most aid reside within the Canal. 
Mr. Aragon added, "Despite many organizations having a weekly food pantry, MCM established a Saturday pantry. Many families work throughout the week so its purpose is to serve those who can not get to the other locations. We are the only food pantry opened on Saturdays." 
Although the neighborhood of Canal houses various other opportunities to access healthy and free produce, these pantries happen during the week. This is a complicated time for those who are at work or those commuting from far distant jobs. However for those who can attend during the week, the Marin Community Clinic hosts weekly Health Hubs at both their Novato and San Rafael Clinics. The Hub provides services ranging from food distribution, group exercise, nutrition education, health screenings, and information about community organizations. San Rafael Clinic hosts the event every Wednesday from 2:30 to 5:30 pm. Novato Clinic hosts the event every Thursday from 3:30 to 5:30 pm. On Larkspur and Belvedere Street, otherwise known as Canal Alliance, many locals can be seen lining up on Tuesday mornings from 8:30 to 11:00 am. Canal Alliance is another organization that hosts a weekly food pantry to support any and all families struggling financially or those who face food insecurity.
Community unity and support does not end when the centers are closed. In fact, volunteers alongside Mr. Aragon from the Multicultural Center of Marin deliver food to families that do not live nearby, but in Novato, Fairfax, Mill Valley, and Terra Linda. MCM is also proud to organize a success program that works directly with youth who are in the juvenile justice system. MCM strives to provide and care for both the parents and youth, providing them with any necessary resources. 
Within any low-income neighborhood having the needed resources to live a wholesome life can be challenging. In a community where many of its members are essential workers, staying healthy in times like these can be challenging when you come home to a two-bedroom apartment with five other people living in it. Today, as the world faces health scares and financial hardships, low-income Latinos are more likely to get infected from both interactions at their essential jobs and by living amongst their roommates who may have been in contact with the virus during their essential job.
In times when the world may seem to come to a halt, the community of Canal fights back. By having multiple food pantries available throughout the week to even making COVID-19 testing free and accessible within their own neighborhood, Canal residents have shown they know the definition of community love. Like any other neighborhood and community, Canal has been impacted and negativity affected by the pandemic. There are numerous workers who to this day do not know when their next paycheck will come. There are families that live day by day on only the food they receive from these pantries and there are children who do not have reliable access to the internet or have the capability to ask their parents for help on their homework. These are real life struggles for real life people who do not have a choice.
There is strength in numbers and the community of Canal has proven it. As a community they stand more united and determined than ever to provide food and resources for those in need, even as the pandemic continues with no clear end in sight.