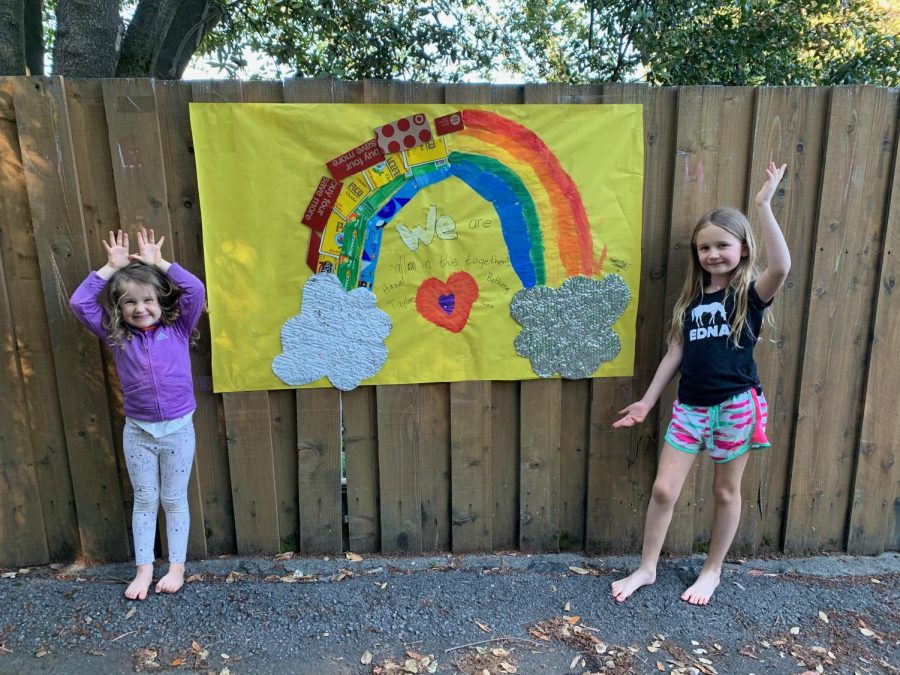 COVID-19 Takes a Toll on San Rafael's Young Children (Even if They Aren't Sick)
June 7, 2020
Hazel is normally an energetic and creative kid who loves to learn, but over the last few months, she has been struggling to feel like herself. Hazel's mother, Bethany Womack, said that she describes herself feeling as if she is trapped in a box, and, throughout the day, the box gets smaller and smaller. 
With her social interaction limited to her four-year-old sister, Taylor, her 2nd-grade class being moved online, and her 8th birthday party canceled, COVID-19 has taken away a part of her childhood and has brought on a new wave of emotions. 
COVID-19 has impacted the lives of American youth in ways they might have never imagined. Young children are uniquely affected, however, the past two months of shelter-in-place have taken a social, emotional, and academic toll on San Rafael's elementary school students. They require social interaction, can be delayed in learning, and can feel stressed about the situation of the world.
As everything adjusts to flatten the curve of COVID-19, San Rafael's elementary schools are temporarily changing their education. Similar to millions of students, elementary students are sitting at home with their devices and attending their zoom calls. This has substantially limited the time young students have to interact with their peers and teachers. 
The 2020 Spring semester ended fairly recently. To accommodate health orders, the whole district had to transition online within 2 weeks. 
Ms. Ellis, a 1st grade teacher from Coleman Elementary, says, "Initially, the sudden use of technology overnight was very hard at first." 
One street in the Dominican neighborhood has been finding ways for their children to socialize while maintaining social distancing guidelines. 
The kids have been allowed to ride their bikes up and down the street in a group with strict rules. They have to stay far apart and keep their hands on their handlebars. 
Allowing the kids to interact with each other while social distancing has been a great help to the mental health of the kids and the parents. 
Megan Rogerson, one parent from the Dominican neighborhood, is extremely grateful that the kids there have the chance to safely play outside and interact with others, as they understand that many other families don't have that option.
Just the other week, Hazel and Taylor were allowed to play with their neighbors from up the street. "It was the happiest she had been in a while," said Bethany. Having someone to play with who is closer to her age has brought back a sense of normalcy that had been missing from Hazel's life for a few weeks. 
A recent study was done by JAMA this year among children in the Hubei province of China to investigate any depression and anxiety symptoms. The aim of this was to show the need of improvement for mental health services for children in hopes that all countries affected by COVID-19 could take action. Children can be mentally and emotionally impacted in San Rafael as well as across the globe.
Not only was it good for the girls, but it brought an enormous amount of relief to Womack. With her husband, Wes, in meetings all day, and her responsibilities as a teacher, having her kids play with the neighbors was a big help. 
"Thank goodness they have each other," said Womack. Other parents shared how relieved they were that their children have siblings to keep them company. Kids who have older or younger siblings are still able to practice basic social skills. 
For single children, many have only been able to have virtual play dates with their friends, which don't seem to spark much joy for them. Other parents are also trying their best to let their kids have some social interaction.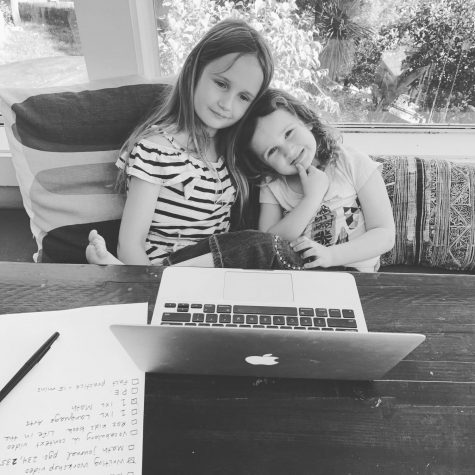 Along with the effects of quarantine, there are important milestones that kids miss. For fifth-grader Addison Kelly, she has to miss something that she has been looking forward to for the last 6 years: her promotion from elementary to middle school. As others may think it's not significant, it is still something that she will never get to experience because of COVID-19. 
Ms. Ellis worries about the emotional effects on young kids. It was difficult even for her to accept everything. She feels bad for those who depended on school as their constant routine. It's where they get their meals, education, exercise, friends, and attention from teachers. 
Some kids have overwhelming feelings of sadness about the cancellation of school and the transition to online learning. On the other hand, some younger children don't seem to mind at all. 
Theo is a kindergartener at Coleman Elementary and while he loved going to school, he doesn't seem to mind online learning. He enjoys seeing his teacher on the computer. He even showed me a book he had started writing. 
His mother, Ms. Farrell, who is a history teacher at SRHS, was relieved that he had adjusted to the online learning environment so well. 
Even though young children don't mind staying home with their families, they are at the ages where social interaction is extremely important for their development. 
Children who were often socially isolated attained less in education and were more distressed in adulthood along with other consequences according to a study done by the National Children Development Study in 2014. This study was done in an effort to figure out the correlation between social isolation in childhood and wellbeing across the life course. 
Ms. Falco, a 2nd grade teacher at Coleman, says, "When getting kids to engage with the material, it has fallen to the parents to guide the kids." 
It was always up to the school and family to help the kids get the education they deserve. However, it has fallen more on the parents now that they are stuck with their child at home.
"This also points out the divide between English learners and kids who already know English," says Ms. Falco. While the kids who already know English excel faster, the kids who are learning will clearly have more issues. 
The most recent data story provided by the Department of Education shows the rates of the National Assessment of Educational Progress (NAEP) and graduation rates among English learners and non-English learners. The ED states, "While ELs have experienced some small gains in reading and mathematics proficiency nationally as well as increases in on-time high school graduation rates, their performance still lags far behind their non-EL peers."
It's most likely that during this time, it is harder for ELs because they need that extra support. It's a challenge to provide those services during this time. 
Ms. Sanchez, a 3rd-grade teacher at Coleman, says, "Many kids are on different levels of the spectrum of how much they can deal with the homework they receive."
All of the teachers interviewed agree that every student is on different levels on whether they engage academically the way they used to. For the teachers, it has been a challenge to encourage their students to participate constantly. 
In regards to falling behind in learning, the Summer Slide indicates the loss of learning that occurs during summer and it has a snowball effect. On the other hand, we currently do not know the effects on children's learning since there have never been studies on children doing online schooling and being out of school for longer than 2 months. On the contrary, we do know that younger children are increasingly prone to the loss of learning.
In a positive light, online school may be helping kids. Ms. Ellis says, "It is letting them be in charge of their learning and becoming more independent." 
While children don't fully understand the severity of the pandemic, some children seem to be handling the whole situation well. Hazel and Taylor understand that they need to wear masks, stand 6 feet apart from others, and stay home.
It's quite clear that all young children know the word, "coronavirus," and that there is a global pandemic. For many parents, setting boundaries on how much information is difficult. 
Many parents were unsure of how much information to tell their children regarding the virus. "I was very honest with the girls," said Womack. She felt it was necessary to tell her children the truth about the state of the world, so they can have a better understanding of why things are the way they are. 
Other parents believed that the less their kids know, the better. "We don't have the news on during the day because of the kids," said Ms. Farrell. 
"We tell her what we think is appropriate for her age," said Mrs. Rogerson. Not only is it up to the parents to not stress their children, but the teachers play an important part as well. 
The teachers take part in reassuring their kids, letting them know that they are going to be alright, and showing that they care deeply. 
Overall, as everything tries to go back to normal, it sadly won't. 
Ms. Ellis is concerned about the future. She says, "I cannot wrap my brain around doing this again with a new group of students who I don't know in the fall." Kids are loving and limiting that physical contact can take a while to get used to. 
Sue Ritter, a nurse who works for Marin County in the Special Education Department, says, "It has all kinds of different effects. Certain kids who have more strained house environments will be affected more than kids who have supportive ones."
We have seen a decrease in child abuse reports and though it can be positive. Sadly, it's a telling sign that there must be more happening that isn't being reported. 
Mrs. Ritter continues saying, "I'm afraid of domestic abuse and violence at home. Even if children observe fighting or any kind of dysfunction, it affects them. Now more than ever it's harder to identify this happening. Teachers are mandated reporters and they cannot see what's happening."
Hopefully, future research will provide the insight we need in order to see the impacts socially, academically, mentally, and emotionally on children. Then from there, we can take the necessary steps. 
"It's important to not let kids get wrapped up in fear," says Mrs. Ritter.