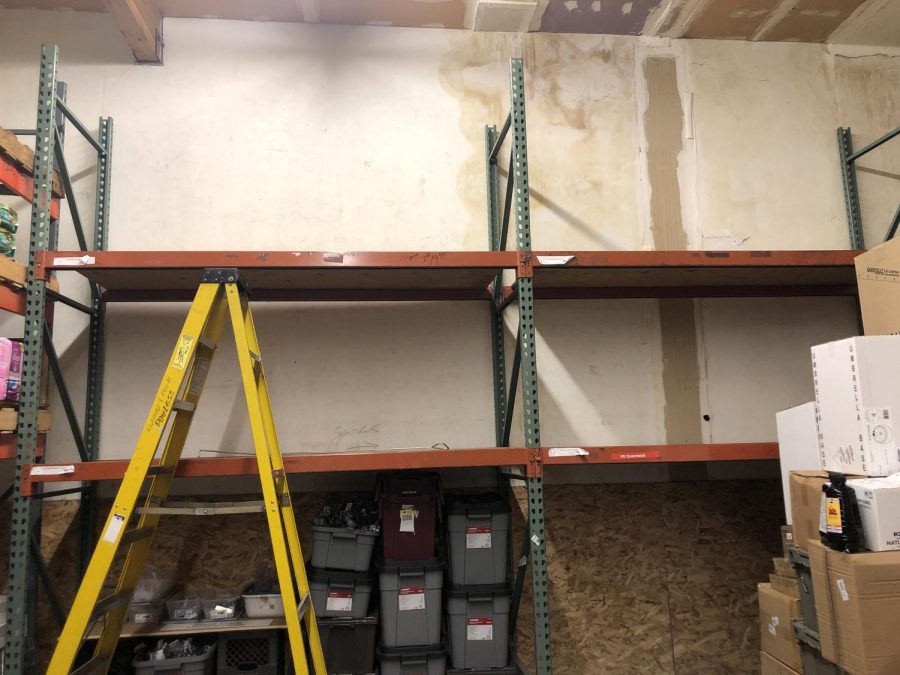 Empty Shelves: An SRHS Senior Shares Her Essential Worker Experience
June 7, 2020
Imagine you're entering your last year of high school, you think it will be smooth sailing, then all of a sudden you hit a rock and you feel yourself starting to sink. You step onto the pavement of your high school, books in hand and heading to your classes. You feel yourself hitting your stride feeling like there is nothing that can get in your way, when all of a sudden March comes. You are nearing the end of your high school years feeding off of the excitement of your completion. When all of a sudden we are advised to stay in our homes unless it is absolutely necessary to go outside. 
When I heard this news it felt unreal to me as if I were in a dream. Of course I began to worry whether or not I would be working, since I had a job at a  pharmaceutical based store, which would most likely be deemed essential. Just to my luck, I found to be preparing myself to work through a global pandemic. Immediately the task at hand became excruciatingly difficult physically, emotionally and mentally. Picking up extra shifts from day to night to be able to provide for a community that doesn't seem to respect you as a person makes you lose your sanity. Having to learn how to navigate a store while being told to work as fast of a speed as you can and simultaneously helping customers made your mind wander a bit. It made me question if I would be able to arrive home in one piece. Then everything started to go south.
 Working a mid-morning shift I walk into the store with the line reaching the opposite end of the store, customers dashing through the aisles, and arguments rising; it's like some mob you would see on the news. You leave your peaceful home to, all of sudden, be bombarded by customers who have no respect for your personal space, but expect you to respect theirs.
My assistant manager said, "You are first priority to us but you have to act as if the customers are much above us, when in a time like this we should all act as one instead of getting talked down on us as if we are stupid." This spoke volumes since it is the fact of the world we are living in right now. 
On the day we had finally received our shipment of paper products such as toilet paper and paper towels, it was absolute chaos. There was a limit of 1 per customer, and per usual, people were getting quite upset, so far to the point where they tried to walk in wearing different pieces of clothing to try to be able to purchase more than one pack. It got to the point where my coworker said, "Forget it, I am tired of fighting people over some goddamn toilet paper." 
"How stupid can you be?" 
"Are you so incompetent you can't handle your job?" 
Comments like these from customers really make you question why you receive so much hatred, when you're trying to provide as many people as possible with the items they rave. 
It takes a lot of emotional strength to be able to withstand customers calling you every curse word in existence and reply with, "Sorry that you did not have a good experience shopping with us." 
Essential workers are afraid but also unable to thoroughly express emotions. It is mind-numbing.  
On April 22nd, the day all of Marin County was required to wear masks, things got interesting. Not only does wearing a mask ensure the safety of others, but it also insures your health, which is something that some people do not seem to understand. Yes, we understand the masks get hot underneath, but imagine having to wear them for 8 hours a day or more. That is what I have had to deal with; it gets so hot to the point where you feel you can't breathe and you find yourself downing big bottles of water or standing in the cooler until your face goes a little numb. 
Between washing my hands more often, and rubbing as much hand sanitizer as possible on my hands, they have begun to scar. Moving around boxes caused my skin to start cracking to the point, where any crack in the skin of my hand would start to bleed. Wearing gloves to protect myself caused some customers to say, "Thank you for being cautious," and others saying, "What, do you think I got corona or something?" 
Still my coworkers and I put on a brave face while fighting the urge to burst into tears from being afraid of getting coughed on. 
Somedays I wander the aisles of my store to purchase some products before I begin my shift. I am walking to self-checkout when a customer yells at me, "Please keep your distance," when he proceeds to try and touch me. There was no valid point. I was trying to purchase a bottle of water, and then a customer wanted to touch me. He didn't want to respect the new social distancing rules but expected me to do so. 
The thing that hurts most through all of this is experiencing my final semester of my high school career through a screen. Not only is it the hardest thing one has to adapt to, but it is also one of the hardest to manage. Having my work schedule constantly flipped around has caused me to miss my virtual meetings and assignment deadlines. I never got the privilege of getting to walk across the stage like my siblings did. Working for four years to not being able to walk across that stage to receive my diploma, not being able to properly say goodbye to the teachers who supported me throughout my four years and watched me grow, and to not say goodbye to the halls that hailed some of my proudest moments and agony — that is what hurts the most.