A Dip Into San Rafael's Aquatic Past
May 27, 2023
It's a summer morning in June at the San Rafael High School pool and there are close to sixty kids between the ages of 5 and 9 in the water. They are cheering, screaming, and crying, and most importantly, swimming. 
This is San Rafael's Pacific Coast Marlins Learn to Swim program – a chapter of the nationwide water safety initiative "Make a Splash" created by the USA Swimming Foundation with the goal of preventing drownings by teaching every child in the United States how to swim.
Under the 45 year-old, sun-yellowed San Rafael High School swimming record board, the kids and their teachers move through lessons of blowing bubbles, practicing starfish floats, and crawling hand-over-hand across the cracked pool tiles.
The kids in the pool are often from low income households and could be the first in their families to be learning how to swim. In contrast, their volunteer instructors are accomplished high-school-aged swimmers and water polo players who were likely enrolled in private swim lessons at age three.  
The San Rafael High School pool was once home to a premier club swimming team consisting of multiple Olympians, world champions, and NCAA champions, but now, more than 60 years after it was first built, the pool is modest and outdated compared to others in Marin. Clogged gutters and broken heaters plague the various groups who use the pool and incur increasing maintenance costs for the school. 
After years of talk, a budget for a new pool at SRHS has been approved, leaving many relieved but also raising the question: What will this new pool become for the community? Better yet, what do we want this new pool to become for the community?
San Rafael deserves a thriving aquatic community, meaning a community in which aquatics are accessible at all levels and excellence can be built to create success at higher levels. 
The city of San Rafael is in a unique position to create such a community. As one of the most socioeconomically and racially diverse cities in Marin County, San Rafael is home to many groups of people for whom swimming has been historically inaccessible. To create a place where swimming is accessible to all would be to provide life-saving skills to people. Additionally, San Rafael is home to a rich history of swimming excellence and a spirit of perseverance that can lead to excellence again. 
A History of Inaccessibility
Swimming has been a historically inaccessible sport in the United States for many groups of people, but the group most negatively impacted throughout history has been African Americans. 
According to USA Swimming, the national governing body for the sport of swimming in the United States, 64% of African American children have low to no swimming ability, in contrast with 45% of Hispanic children and 40% of Caucasian children. This is the result of hundreds of years of racism and discriminatory practices that found their way into the pools of America. 
In the 1920's and 1930's, American society experienced a pool building spree. Thanks to the Hollywood icons of the time, swimming pools became a symbol of status and wealth, and advancements in building methods allowed for pools to be built more quickly. 
Thousands of pools were built in this period, a majority of which were large, outdoor, public pools. However, during the midst of the Jim Crow segregation laws, most black Americans did not have access to these pools. Not only did the "separate but equal" clause fail to provide black Americans with the same swimming opportunities as white Americans, but they also faced violence whenever they did try to swim in segregated pools, as in the case of one hotel owner pouring acid into the water of the hotel pool to disrupt the black swimmers protesting the hotel's whites-only policy.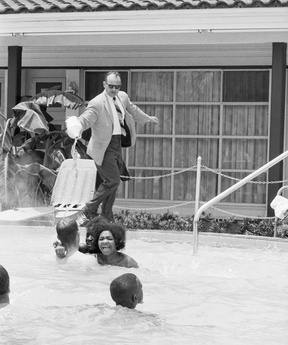 In the decades following the end of Jim Crow segregation, there was an instance of "white flight" out of the now-desegregated pools and into private pools in backyards or country clubs with members-only policies. While segregation no longer prevented black Americans from swimming in public pools, the loss of funding led to poor maintenance and many public pools ultimately became unusable. 
Access to swimming pools became limited on a socioeconomic level. 
The Cold Facts about Swimming in Marin
In Marin County, it's no secret that there is a large socioeconomic gap between its more wealthy, typically white residents, and its lower income, typically Latino residents. According to a report called A Portrait of Marin, in 2012 the top fifth of Marin taxpayers took home about 71% of the county's income, while the bottom fifth earned 1.3%. 
In regards to swimming, this gap plays out in many ways. The lower-income neighborhood in San Rafael is built along the San Rafael Canal, putting many of those who can't afford expensive swim lessons at greater risk. Additionally, distant public pools in Terra Linda and Marinwood make cheap swimming options far less available to the residents of the Canal neighborhood. 
"Swim lessons are really expensive," says Andrea Salmi, leader of Pacific Coast Marlins' Learn to Swim, "And oftentimes if parents didn't learn how to swim they don't prioritize it for their kids."
Learn to Swim, also referred to as Make a Splash (though it is only one part of the nationwide initiative), is one of a few programs in Marin that is working to provide accessibility to swim lessons for younger kids. Make a Splash offers swim lessons for kids from underserved communities, but it sets itself apart from other reduced-cost programs by providing completely free lessons and by transporting kids to the pool for these lessons, taking pressure off of working parents. 
"The mission of Make a Splash is to bring together local teens and schoolchildren, and provide service opportunities through free swim lessons for underserved communities in San Rafael," says Salmi.
Make a Splash was started by Andrea's daughter Isabella in 2012 with the support of the Junior Fellowship Award from Branson High School, which financed the first year of the program. At first, they partnered with the Canal Child Care Center and ran lessons out of the Marin Academy pool, teaching about 40 kids. 
Now, in the 11th year of the program, about 150 children between the ages of 5-9 from Bay Area Community Resources' summer school program are bussed to the San Rafael High School pool twice a week for free swim lessons, taught by about 20 different high-school-aged volunteers.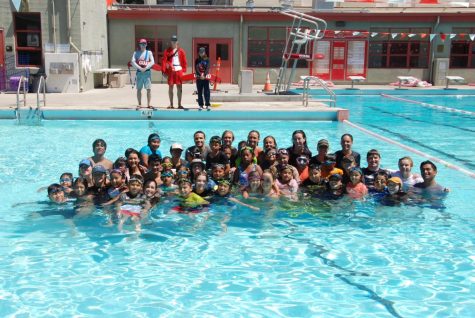 Make a Splash runs for 6 weeks during the summer and offers lessons based around all different kinds of swimming skill levels, but always with the priority of teaching water safety skills like floating. 
Salmi purposefully only hires Marin teenagers for the teaching positions because she believes in the value of bridging the gap between children who will be the first in their families to learn to swim and teens who have had the privilege of growing up with easy access to aquatics.
At the high school level, San Rafael employs the swim unit in PE classes to teach water safety skills to students, but by high school age kids tend to be less susceptible to the new lessons. 
Will Copeland, a former swimmer at UC Berkeley who currently runs the Ann Curtis Swim School in San Rafael with his former teammate and Olympian Nathan Adrian, says, "Some high schools have a swimming aspect, and some colleges have a swim test you have to pass, but it's really the younger ages where we need to address swimming inability."
However, opportunities in high school are far from nonexistent. This year, the San Rafael High School swim team functioned both as a competitive swim team and as a provider of swim lessons. At the beginning of the season, 12 of the 45 swimmers that came to the first team meeting had never learned to swim beyond a beginner level. While head coaches Tom Evers and Victor Wales coached the experienced swimmers, assistant coaches Shari Cruse and Matteo Diaz worked on basic swimming skills with swimmers in the shallower wings of the SRHS pool. 
By the end of the season, most of those 12 new swimmers competed in the Marin County Athletic League (MCAL) Swimming & Diving Championships at the College of Marin Miwok Aquatic Center, racing the 50 yard freestyle (2 laps) or both the 50 and the 100 yard freestyles (4 laps).  
A History of San Rafael's Swimming Excellence
In the mid- to late 70s, San Rafael was the place to be for a highly competitive swimmer. After being hired as the coach of the San Rafael High School team in 1960, Larry Lack began the San Rafael Swim Club as a means for the high school swimmers to access year-round swimming opportunities. When the club started to lead SRHS to a string of MCAL wins, swimming caught on in San Rafael. 
"I started the San Rafael Swim Club knowing that the key to success is the opportunity to swim competitively at a young age," says Lack. 
In 1968, Lack was hired as the swimming coach at College of Marin and was replaced as head coach of the San Rafael Swim Club by Don Swartz. The San Rafael Swim Club combined with the Marin Swim Club to become the Marin Aquatic Club in 1970. At this time, Swartz met a 14 year old Rick DeMont who would bring about the start of the golden era of San Rafael swimming. 
In 1972, Rick DeMont became the second Marin swimmer to compete in the Olympics after Ann Curtis' dominant performance in 1948. DeMont placed first in the 400 meter freestyle in Munich, but he did not take home a medal. 
DeMont had been training for four years with Don Swartz and the Marin Aquatic Club at the San Rafael High School pool while attending Terra Linda High School. He and Swartz worked out new race techniques like the "negative split" – a strategy in which a swimmer speeds up during the second half of their race, making the second half faster than the first. 
The negative split worked, and in 1972, DeMont competed in his first Olympic games as a favorite to win the 400 and 1500 meters freestyle. After placing first in the 400 and qualifying for final competition in the 1500, DeMont was disqualified from both events for testing positive for a banned substance, later revealed to be asthma medication that he had already disclosed to the doctors on Team USA. 
DeMont was stripped of his gold medal in an action that most swimmers believe was wrong.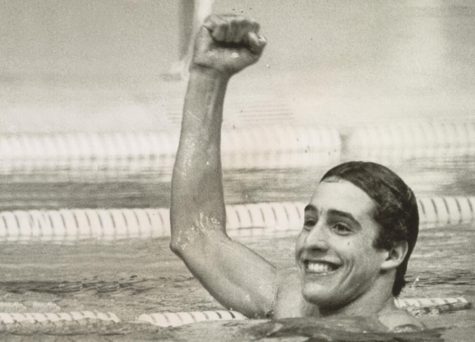 Though DeMont lost the gold medal, the effects of his performance were not lost on the Marin Aquatics Club. He also didn't let the incident affect his swimming: in 1973, after he graduated from TLHS, Rick traveled to Belgrade, Yugoslavia for the 1st World Aquatics Championships and broke the world record in the 400 meter freestyle with a time of 3:58.18, becoming the first swimmer to race a 400 in under 4 minutes. 
"We started making some noise nationally and internationally because of the results, and that's no different today: everyone wants results," says Swartz, "We were getting good results, so kids started coming."
While Rick DeMont's performance brought the MAC attention, he was certainly not the only talented swimmer on the team. Other standout swimmers include Ken DeMont, Robin Backhaus, and the Placak family of Bob, Nancy, and Linda. 
During the period after DeMont's Olympic and World Championship debuts, many swimmers from around the nation, and around the world, came to train with the Marin Aquatic Club. Swartz and Bob Placak, a swimmer who was a few years behind DeMont at the Marin Aquatic Club, recall swimmers from Southern California, Indiana, Peru, France, Mexico, and even Australia. 
"It wasn't all Rick, but he was certainly the one who made it possible by the way he approached his craft – it was important to him," says Swartz. 
"What he did to develop a reputation had people coming from all over the world," says Placak. 
The Marin Aquatic Club formed a deal with the administration of San Rafael High School: kids on the swim team who were sophomores and older were exempt from PE as long as they went to swim workout, and in return, the many swimmers coming to swim for the MAC would enroll at SRHS, bringing the school more money with their attendance. Families of MAC swimmers would provide spare bedrooms for traveling swimmers to stay in while they trained. 
"One day these three Australian guys walked into the pool area wanting to know if it was the Marin Aquatic Club and if I was Don Swartz," Swartz laughs, "They'd just driven across the country from Oklahoma in a Trans Am, so we found them a room and they swam with us for two summers."

Though not every swimmer in the MAC between 1973-1977 also swam for San Rafael High School, most of them did, and it's evident in SRHS swimming's domination in the MCAL during this period.
Most school records at SRHS were set in the '70s when the MAC was at its peak. The many records held by the Placaks have gone largely unchallenged in the decades since their graduations in 1977 and 1978. Bob Placak,
the record holder for most of the boys' events, went on from the MAC to swim competitively at UCLA and win the 100 butterfly at the Pan American Games in 1979.
"Swimming is a sport where you create your own destiny. You touch the wall, and nobody can take that away from you," says Placak. 
His younger sisters, twins Nancy and Linda, were one year behind him at SRHS and also went on to swim at UCLA. The two of them still hold several records in SRHS girls swimming.
These now-45-year-old records continue to stand, which is both a testament to the MAC swimmers' extraordinary talents and an indication of the loss of popularity of the sport at SRHS. Where SRHS swimming once held a 10 year MCAL winning streak, they now regularly finish eighth in the nine team league. 

When asked about the cause of this deterioration, Larry Lack suggested that new opportunities to play different sports drew many athletes away from the pool. Similarly, the creation of new recreational swim teams and club teams drew athletes in different directions. 
"[In the '60s and '70s] there were not soccer leagues, there were not other competing sports that would draw young kids," he says, "If you look at the number of sports now, it's phenomenal. There are just so many more, and it tends to dilute the population."  
In the world of swimming, a successful high school team is typically born from a successful club swimming team. There are different levels of teams that swimmers in Marin can choose from: on one hand, swimmers can choose to swim only during the summer with the various Marin Swim League recreational teams, while on the other, usually more competitive swimmers choose to join a club swim team in the realm of USA Swimming. 
Club teams practice all year round and tend to charge higher fees to produce better results. The two dominant club teams in Marin right now are Thunder Coast Aquatics (TCA) in Novato and North Bay Aquatics (NBA) in Larkspur. Both teams have histories of sending swimmers to college swimming programs and even beyond to the Olympic trials. TCA and NBA are both USA Swimming teams, and due to their locations, they have larger impacts on some high school teams more than others. 
For example, Novato swimming has been a fairly successful team in the MCAL. Last year, the Novato boys team went undefeated in dual meets throughout the season. This is due in large part to the presence of TCA in Novato. 
NBA exerts a large influence on the swimmers at Tamalpais and Redwood High Schools because the team is based closer to those schools and trains many of the swimmers who lead their respective high schools to victory at the MCAL Championship meet. 
The MCAL swimming victor is, more often than not, determined by the club swimmers at each high school, and so physical proximity of the club teams to the communities around the high school is a consistent indicator of how well the team will do. The clubs come where there is a good pool to swim in, and recently that has been the case at Redwood, Tamalpais, Archie Williams, and Novato High Schools, which have all built new, state-of-the-art pools in the last two decades. In contrast, San Rafael's pool turned 65 this year.  
"It takes a lot of resources to build a pool, much less keep it going," says Will Copeland, "Some underserved communities don't have those opportunities."
During the time of San Rafael's swimming success, the Marin Aquatic Club was based in San Rafael, making San Rafael High School the training site of the most successful swimmers in the MCAL, and ultimately leading to the success of the high school team. At this time, the swimming clubs in Marin were not a part of USA Swimming but were instead a part of the AAU (Amateur Athletic Union).
The Marin Aquatic Club fizzled out following Don Swartz' departure from the club in 1978, and since then there has been no other club swim team based out of San Rafael. 
But this doesn't mean that San Rafael's swimming has completely lost its ability to build excellence. In fact, the persevering spirit of San Rafael's swimmers is alive and well, showing itself in various ways throughout the years. 
In 1977, excellence was the Placaks and their many school records. 
In 2019, excellence was Coco Berkenfield breaking a few of those records and committing to swim DI. 
In 2023, excellence was SRHS being the 3rd highest point scorer of any Marin teams at the North Coast Section Championships, but it was also in the 6 boys who qualified for finals at MCAL Championships when last year there were none. 
In 2023, excellence was a first year swimmer dropping his 50 freestyle time from 40 seconds to 28 seconds, and racing the 100 freestyle for the first time.
In 2023, excellence was the 12 swimmers who learned not only how to swim, but how to race and dive off the blocks in the course of a 3-month- season.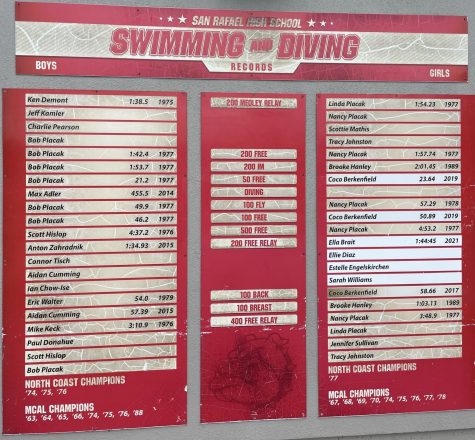 A New Hope
San Rafael is in prime position to become home to a thriving aquatic community – all that's left is the new pool. 
Tom Evers, one of the head coaches of the SRHS swim team and a head coach of Thunder Coast Aquatics, says, "The pool is an enormous opportunity for that area. It also will allow a lot of the programs to have a united focus on everything getting better."
Evers believes that the pool community around the SRHS pool is splintered because of the poor conditions and size of the pool, but he hopes that an aquatic community will form, complete with a swim lesson program, a strong recreational team, a competitive club team, and a successful high school team. 
"A great rec team is also born from an improved high school team," says Evers, "It just has a ripple effect throughout the aquatic programs." 
 If you build it, they will come.
With this pool, this team, these coaches, and the dedicated athletes of San Rafael, opportunities are only going to become more accessible. Elite swimmers in a new pool, combined with active outreach to underserved communities through programs like Make a Splash will lead this new pool to become the thriving aquatic community that is waiting to burst through the surface.