Chris Barrios' Journey to Collegiate Sports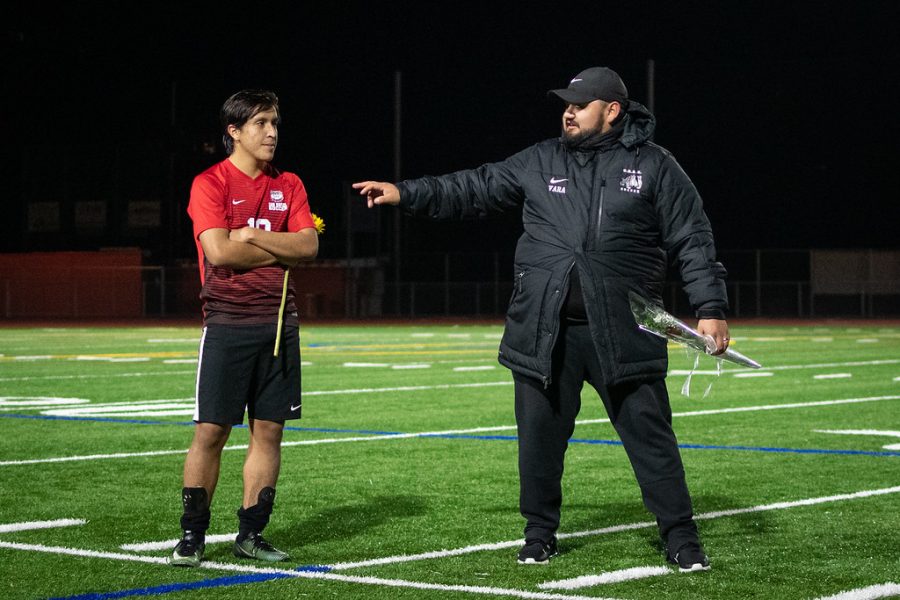 Chris Barrios was born in Novato, California just a week after his mother had immigrated into the country from Guatemala. He attended Coleman Elementary and Davidson Middle School before coming to San Rafael High School. Chris started playing competitive soccer at age twelve when he joined Marin FC's blue squad (their premier team).
Chris was introduced to the sport of soccer almost immediately after he started walking, and credits the sport to his success in every aspect of his life.
This was the start to an amazing journey that helped him sign for Dominican University on a soccer scholarship.
"Without soccer, I would probably be in a much worse place than I am in right now," Barrios stated. He also mentioned to me how soccer helped him to realize his own abilities both on and off the field. And how his potential on the field has made him a better student, and a better person.
Barrios started playing for SRHS during his sophomore year. Head coach Johnny Vara knew of him, but had never coached Barrios before he tried out. Barrios had an extremely successful stint here at SRHS. He helped the team win the MCAL championship in his sophomore year and he got second place in the MVP running for his senior season.  In his speech on senior night, after Barrios's last MCAL game, Vara said that it was a blessing and an honor to be able to coach Barrios for three years, as he was one of the best players he had seen to come out of MCAL's.
Vara stated, "I give my number 10 shirt to my best player every year, and Chris has been wearing that number since his sophomore year."
During this past season, I had the pleasure of playing varsity soccer alongside Barrios. From personal experience, I can say that Chris is one of those players that makes everyone around him a better player. This is amplified since he plays central midfield, which makes him one pass away from everyone on the field. James Corona-Vasquez, a senior goalkeeper for SR's varsity team, has been playing with Chris for three years now. "Chris is a great player, a great captain, too. But my favorite part about Chris is that he's such a great friend. He's always there for me."
However, Barrios's biggest improvement at SRHS has come in the classroom.
One teacher in particular really helped him to improve his grades: Mrs. Caiocca. Chris met Caiocca in his sophomore year when he was in her Geometry class. At this point in Chris's life, he was in Math Support and lacked the motivation to improve his grades. However, Ms. Caiocca helped Chris to realize his potential both on and off the field. "She's definitely been the most helpful person at this school." Since Chris's sophomore year, the two have remained extremely close. Barrios stated that she is the most vital reason that he got back on track grades-wise.
However, the respect is mutual between the two. Caiocca had extremely high praise for Chris and the changes he has made. When I asked her about his progress, she stated, "I reflect back to how far Chris has come it's truly incredible. Words can't really explain or do justice to the change that Chris has undergone over the last 2-3 years. As a math teacher, to watch someone go from Math Support to AP Statistics in such a short time quantifies the type of growth Chris has achieved."
One key achievement that Barrios needed to be NCAA eligible was to have a minimum 820 SAT score. In order to achieve this, he would stay after school in Ms. Caiocca's room practicing SAT questions so that he could fulfill his dream of playing soccer in college.
Barrios's main point of pride in this whole process has been achieving his goal of being the first person in his family to go to college, "I wanted to give pride to my family, and to my mom." After achieving this feat, Barrios will become the first person in his family to go to college.