Life Fundamentals are the Basis for Adulthood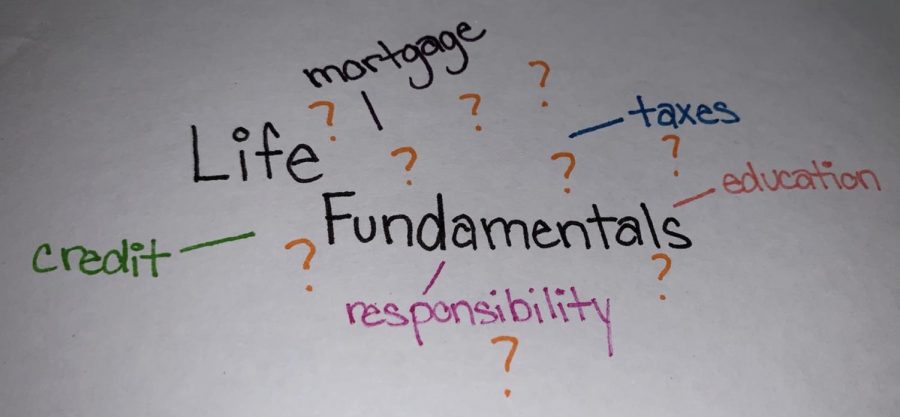 Schools provide students with educational fundamentals such as math, English, science, and history. These subjects will prepare students for their educational future, but what are students being taught to prepare them for adult life?
Students are taught variations of math, science, English, and history throughout their educational lives. Though these teachings set the basis for future educational professions that students may pursue, students are thrown into life with little to no knowledge for what the "real adult life" is like.  
Life fundamentals such as taxes, credit, loans, and basic rights should be prioritized during a student's senior year of high school. Without this basis, students go into the real world clueless of what responsibilities come with being an adult.
At SRHS, Economy and Government are subjects that are taught to seniors in a year. With Economy and Government being such grand topics, this class does not go into detail about each aspect of these subjects due to the small time frame that a teacher is given.
"Econ. and Gov. teaches us a lot of necessary information that I am currently putting into practice as an adult," states Susana Oxlaj, a senior currently in government.
Many life skills are learned through experience and failure. Though this can be seen as one of the best ways to learn, life skills should be taught to students in order for them to be a step ahead in their adult life and know how to handle difficult situations they might face.
"Teachings in Econ. and Gov. go by fast, there is a lot to learn in little time," states Dulce Gonzales, another senior currently taking economy.
Seniors are aware that Economics and Government are classes that set them up for the real world. Topics that are taught in class such as building credit and voting rights are currently being put into practice by seniors.
Health is taught to freshman students for half a semester. This class teaches them all about safe sex, nutrition, mental health, and overall well-being. This class is essential for student and adult life because of the wide variety of topics that teach students about their developing body and moods.
This class provides an outlet for questions students may be curious about but are afraid to ask. Not only is this a beneficial class for students because of what they learn, but it is also a resource for students when they have questions. Students are encouraged to find help when they need it, especially during their early years in high school.
"Health is one of the classes that, although everyone is in an awkward position because of the 'weird' topics, everyone learns a lot," states Kelly Alecio, a SRHS senior.
Although adult topics may be intimidating for some students, many of them are curious about what being an adult is like. Students get a sense of what they are about to experience through classes like economics, health, and government and are better prepared for what is to come in the future because of these essential life fundamentals that are taught in school.
Students benefit greatly from these adult-life oriented courses that they are being taught. Students are rapidly becoming adults. More classes centered around life after high school should be an essential part of the high school curriculum in order for students to become knowledgeable adults in the real world.