SRHS Students Protest Climate Change in SF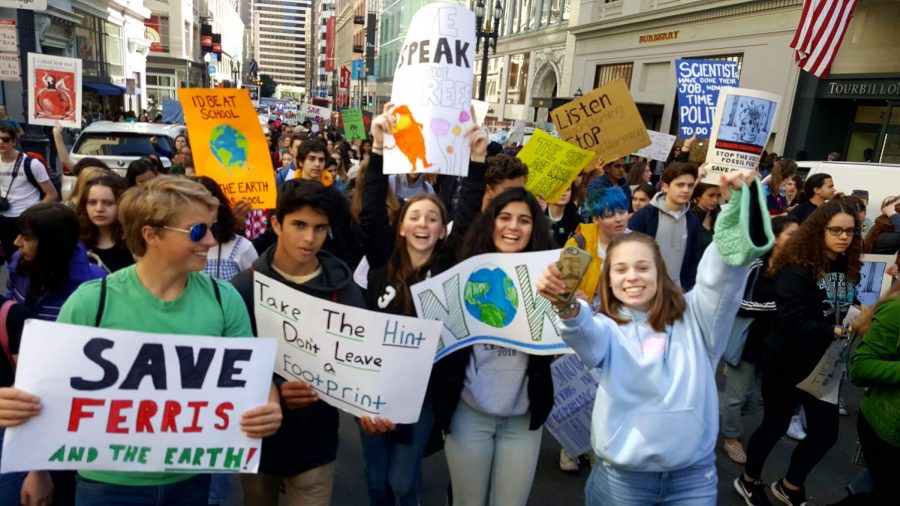 Claudia Munoz Cortez, Contributor
May 6, 2019
In an attempt to spread awareness on climate change, multiple SRHS students chose to miss school on March 15th and join other bay area students, to attend the climate strike in San Francisco.
The SRHS students met at Larkspur Golden Gate Ferry terminal at 8:45 am that Friday, and took the ferry into the city just before the march began.
The protesters went South on Market Street, turning right onto Post Street, ending at Union Square. There, the students urged to be heard by both Senator, Dianne Feinstein, and Speaker of the House, Nancy Pelosi.
Sophia Stewart, a SRHS junior, attended march because she believes that climate change is an issue that affects our generation. She argues, "as students, the best way we can prompt change is by showing our lawmakers that we will be voting and that we will vote for green laws."
Since March, climate change marches have occurred in over 120 countries, however many people, including President Donald Trump, are convinced that climate change is a hoax.
Since President Trump pulled out of the Paris Accords, a pact signed by several countries to change their environmental practices, millions of other people have begun to share the same ideology. In fact, President Donald Trump told the public that he did not see any real evidence regarding any type of climate change.
Melissa Caballero, a SRHS senior, affirms that the government should be "implementing more restrictions and laws."
Another country whose government does not recognize climate change as an issue is Belgium. One high schooler, who had been protesting climate change, thus missing school, was threatened by his principle. The principal threatened that if he were to continue protesting, he would have to repeat the school year.
Mr. Allen, a SRHS history teacher, considers climate change to be one of the biggest issues existing today. He wants more student's voices to be heard. Mr. Allen stated, "We have a government that does not reflect the demographics of our nation. Without these acts of civil disobedience, the voices of the masses will go unheard."
In addition, Mr. Winton, another SRHS history teacher, says that, "as long as they make up their work," students can stand up for what they believe in.
To prove that the Earth's temperature is indeed increasing at an alarming rate, countless amounts of research have been conducted. Based on NASA GISTEMP (data that analyzes the Earth's surface temperature yearly), global warming completely plagued the world since 1987.
Ms. Pikkarainen, a SRHS science teacher, feels that everyone on the planet will feels the effects of climate change, such as glacial melting, natural disasters, or "living in places where sea level rises will impact cities and people (like the canal area in San Rafael), etc."
When the protesters arrived at Senator Feinstein's office, Senator Feinstein made some controversial comments. Students told her that since they voted for her to be senator, she was obligated to listen. However, once Senator Feinstein learned many were not yet old enough to vote, she argued, "You didn't vote for me."
Students voiced that our generation is the most impacted by global warming, and that something should be done concerning this matter. They suggested for the Senator to back the Green New Deal, a deal she criticizes.
This deal, criticized by many politicians, is an effort to maximize energy efficiency, eliminate greenhouse emissions and pollution from transportation services, and build "smart" power grids. The Green New Deal isn't a solid proposal, but a list of ideas to battle climate change. In an analysis by the American Action Forum, it is estimated, if passed, that the deal's costs range from $1 to $93 trillion, a factor that makes many Americans skeptical.
Julia Smith, a SRHS senior, wants the government to take action as soon as possible. She stated, "I saw somewhere that we only have 135 months till there is irreversible damage to the earth." She confessed that she doesn't know how reliable that is, but the number scared her.
Since there have been few major impacts on daily life as a result of climate change, politicians are labeling any climate change proposals as unimportant, turning their focus to bigger american issues such as immigration and firearms.
Cinthya Garza, a SRHS senior, admitted that although it might sound crazy, the earth would be, "so much better without us." Since climate change affects ecosystems, Cinthya suspects that, "we're going to end up flying off earth and living on a spaceship like WALL-E."