Ms. Mazariegos; More than a College and Career Advisor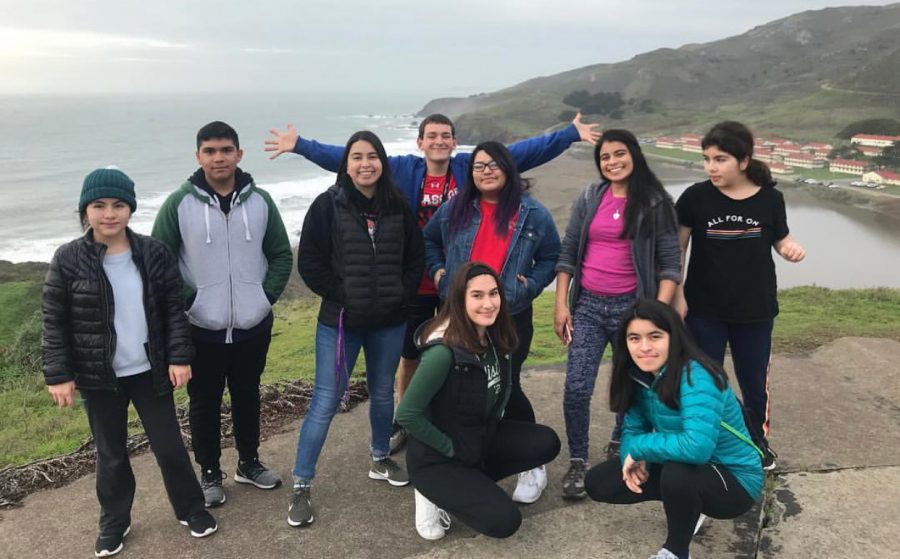 At San Rafael High there are several forms of "support" for students who are planning to go to college. If there are any questions regarding college admission or scholarships, the right place to seek help is the College and Career Center, otherwise known as the CCC. There you can find Claire Mazariegos, an SRHS alumni and the College and Career Advisor. She is always ready to help students with anything they need.
Ms. Mazariegos graduated from SRHS in 2012. Through her high school career she was involved in clubs, sports and academic programs such as AVID. Being a San Rafael Graduate and a first generation student, who is also bilingual, she is able to connect with the students who seek her help.
"I try to be transparent, I like to help the students by telling them what I wish I knew when I was in high school," explained Mazariegos.
Although she is not the oldest sibling, she mentioned she is still the first in her family to graduate from college. She comes from a family of five. Her parents, her older sister, a younger brother.  
Ms. M, as she is known by the students, helps find scholarships, complete college applications and in many cases edit and revise essays for applications.
In the CCC there is a bin with many scholarships available listed by date. Students are more than welcome to come in and look, or they can ask Ms. Mazariegos for help. She organizes this all for our benefit and is always more than happy to help you find which scholarships you can qualify for.
When Ms. Mazariegos was a student at SR, she mentioned that in her freshman year she would not do her homework. It wasn't until Mr. Simenstad, one of the english teachers, called her out in front of the class for not doing her homework. Since then, she was so embarrassed that she made sure she always did her homework and turned it in on time. This served her well all the way through college because she always had good grades and worked her hardest.
Ms. Mazariegos has an amazing sense of humor. She's funny and makes you feel comfortable with how nice and fun she is. Its an important factor when it comes to her personality and experience because she is able to build up a connections with students.
Being hired at the age of 22, she is one of the youngest employed staff members in the school. She graduated from California State University, Northridge (CSUN) with a degree in psychology and a minor in child and adolescent development, she helps students achieve their college goal.
Ms. Mazariegos also helps the AVID senior class with scholarships and application check ins. Not only that but she was also helped chaperone the AVID 2019 senior trip. Along the trip she had great connections with the students which she knew from school and got to know new ones.
"I've known her for a year and she is always willing to help and she will bug you until you do it. She will help you find scholarships of fill out applications. She has a huge heart and is very funny once you get to know her," said AVID senior Kellyn Garcia.
She tries to be involved by going to students sports games in order to build on the connections with the students, that way when they come to her she has something to talk about. She was always one of the only staff members out there in the cold rooting for the SRHS men's and women's soccer team, considering she herself plays soccer at SR.   
"She one of the biggest soccer supporter at SRHS out of all the staff" said Varsity soccer player Sebastian Rocha. "She goes to almost all the games. She's always talking with players off the field about how to improve or what she sees from the stands, so you're always getting a good perspective on how the game is."
Ms. Mazariegos' main goal is to help students succeed and make the best possible choice for their future. FAFSA, Dream Act, Cal Grant, etc. are all stressful applications for college. Ms. Mazariegos will help any student who comes in even if she is busy because she has gone through this hard process herself. She understands the stress students go through, especially first gen students who don't get help at home.
On February 14, there was a FAFSA check in, which was composed to help students double check that everything was good with their FAFSA applications. When the government shutdown, there was some controversy do to the delay of submission. Ms. Mazariegos bent over backwards helping students double check that everything was in order.
The students who know her well can say that she has helped them through many obstacles, not just through school but also throughout their life out of school.
"She is a person in which you can confide in and is able to help you out with anything," mentioned senior Sheyla Diaz. "She is always in a positive mood which makes talking to her always helpful because you can tell she really wants to help, instead of making it feel like she has to."
Not many students take advantage of the opportunities Ms. Mazariegos provides. To some they don't need the help but others maybe do and just don't go ask for help because they are afraid or forget. Ms. Mazariegos offers help for any one who needs it they just need to go in and ask.
She knows that sometimes there are students who need a push in the right direction just like she was pushed in the right direction by Mr. Simenstad. In her case she didn't start off well but with that small push she realized she could do much more. This is why she tries to help point students in the right direction just like they did for her. She reflects back to her own experience in high school to give back to the students of today.
"I want to help students know what I wish someone told me when I was in high school."