Meet The Woman Linking SRHS Together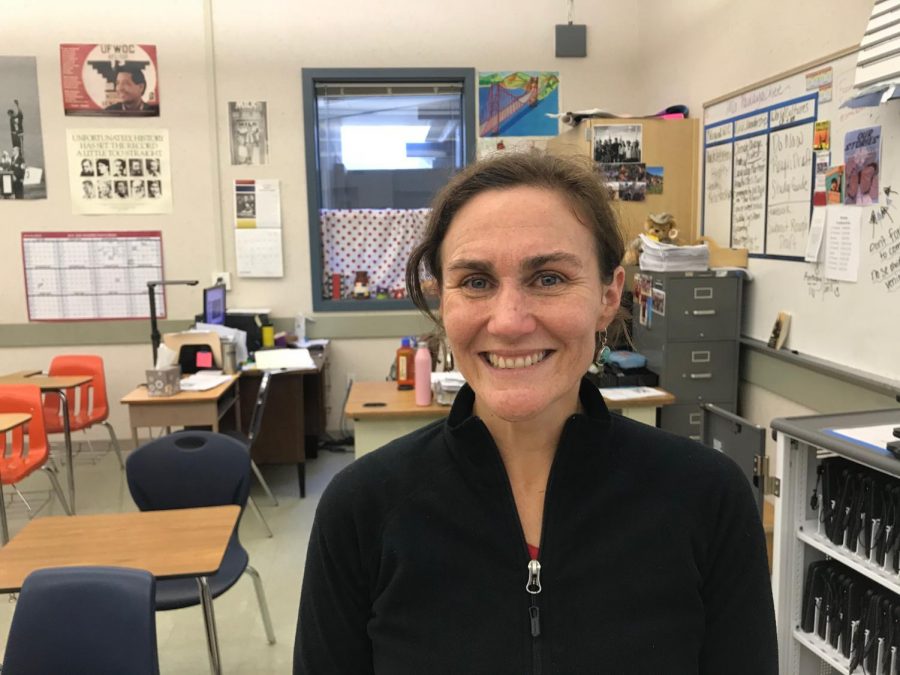 Growing up in San Luis Obispo, Faye Padayachee knew from the get go that she wanted to be a University professor. Ms. Padayachee was unsure of why she wanted to become a teacher due to the fact that she didn't really enjoy school. She only maintained her grades so that she could run cross country and play soccer. Yet, she continued to pursue a teaching career.
It was at her teacher trainings at UC Riverside, where she received a foreign language teaching certificate, that she discovered her love for teaching. She began her teaching career in Ecuador, where she lived at the time, when she realized that teaching English could be a very useful job. She proceeded to emphasize this decision by saying, "I can have a job where I'm not just like waiting on tables or what I was doing before when I lived in Ecuador." Now being a high school teacher who teaches a class that is designed to improve San Rafael High School and the community around it, Ms. Padayachee has found her true calling. 
"Everywhere." That was all Ms. Padayachee said when I asked her if she saw issues in her home life, school, or community. In her everyday life, Ms. Padaychee had seen challenges facing segregation everywhere. More specifically, the self segregation in the school and the self segregation within the community. Conversations about the issues around the school and the community sparked in her normal history classes far too often. That is when Ms. Padayachee came to the conclusion that a seperate class, focusing on the issues around SRHS, was necessary and relevant.  
The Link Crew class is now in its second year of existence. I was in the class last year, and after observing this year's class, it's obvious that Ms. Padayachee has established a lot more structure into how things are run. The students are more on task, more is getting done to improve our school, and the community is being brought together as a result. 
The Link Crew class is preparing for a Community Education Night on Immigration, they have successfully set up a working buddy system for new students, they are working with the English Language Development program (ELD) in order to create a language partner program, and they are fighting for another bilingual academic counselor. Everything that is done in Link is a step towards solving segregation. The only thing holding back the Link class is time. 
Ms. Padayachee is an extremely passionate and emotional teacher. Many of her students believe that this passion drives the class towards making progress. She is easy to follow because of how she is able to express herself with no fear of being judged.
When asked about how Ms. Padayachee has influenced her life and her view on the school community, Nina Dell'Angelica, a senior at SRHS, emphatically states that, "Ms. Padayachee has definitely opened my eyes to some of the issues that are present in our school. What I think greatly benefits Link's ability to accomplish tasks is Ms. Padayachee's caring attitude towards the same issues that we, as a class, believe need to be fixed. We can relate to what Ms. Padayachee's hopes are." 
Likewise, Becky Munoz, a member of the Link class for the last two years says "she [Ms. Padayachee] encouraged me to look at things from a different perspective, and be open to other people's views." She follows this up by saying, "she's really good at inspiring you and making you think outside-the-box." 
With the passionate and driven Ms. Padayachee at the helm, only time will tell what the Link Crew class will be able to accomplish. Ms. Padaychee reassures the school and community that positive change is on the way with her statement, "all we need is time and space and we can do good things."