False Threat Terrorizes SRHS Community in November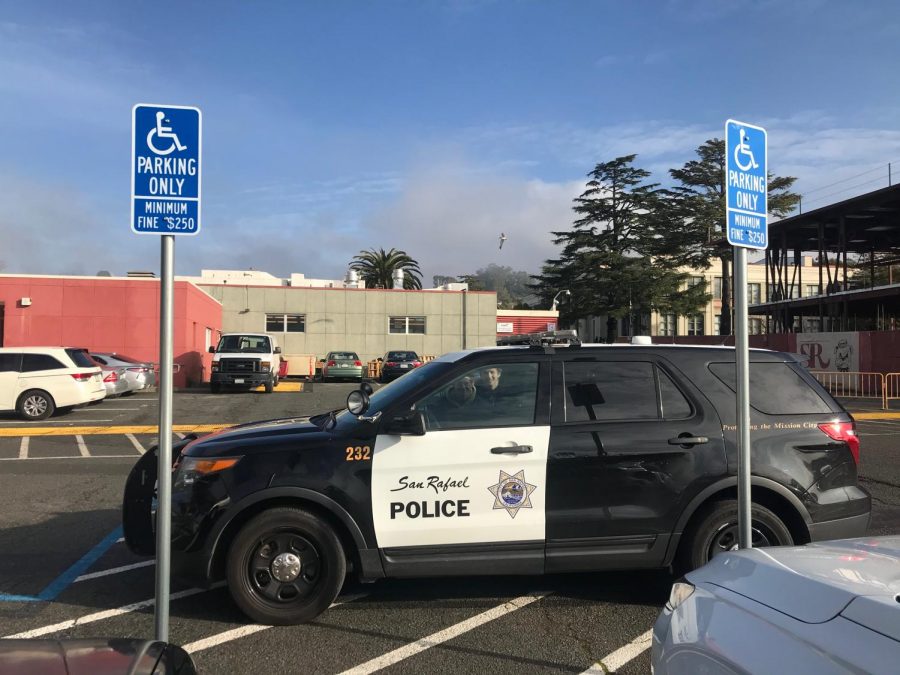 On November 10th 2019, San Rafael High School families were notified of an online threat that hinted acts of violence would take place on November 13th and 15th at San Rafael High School. The threat, which named specific teachers and included derogatory material, triggered local authorities to immediately begin an investigation to find who was behind the threat. A student was arrested on November 12th.
In recent years, school shootings have unfortunately become all too prevalent in American society. In the first 45 weeks of 2019, there were 32 instances where a firearm had been fired at a K-12 school and 46 campus shootings overall, including colleges. So there is no question that when a high school receives a threat, it can drastically affect its community and how students and staff feel about going to school.
Although the perpetrator was quickly taken into custody, the sense of fear was still felt among our school community. Many students felt that it was difficult to focus, and were very disturbed by the threat.
"The thought that someone I went to school with came up with such a plan shocked me. I didn't feel safe at school the next few days," said junior Brianna Thompson.
Many students noticed low attendance in their classes in the days following the online threat. Principal Glenn Dennis noted that several hundred students did not attend school during that week. He believes that social media may have led to anxiety and fear being spread throughout our school community as the threat essentially quickly went viral over the internet.
"One third of the people looked at it and said 'eh' and did not respond, another third looked at it and showed somebody, and another third of them took it and forwarded it on." said Mr. Dennis, referring to how the threat went viral. The threat going viral led many students and staff to be more aware of the problem, yet it also led to the spread of misinformation throughout our community. This demonstrates a difficult situation in that the proliferation of social media allows rumors to spread quickly even before authorities have released official information.
"We did the best we could putting as much accurate information out as we could as often as possible," said Mr. Dennis. He clarified that because the threat had led to an active investigation of a minor, it was very difficult to release much information to the public.
Mr. Baker, a math teacher named in the threat, said, "I felt like I was informed, although I felt like most of my students knew more than I did."
Yet some students at SRHS felt they were ill-informed. When asked how the school handled the threat, Brianna Thompson said, "They seemed like they just wanted to forget about it, which was not the appropriate way to handle it."
Phoebe Johnson a senior at SRHS, said, "I didn't even hear it from the school; I only saw it on people's Snapchat."
The perception that students did not feel properly informed and supported by our administration raises a larger question: How can adults talk effectively with teens about such a fear-provoking issue?
Mr. Dennis has an idea about this. He has been working on organizing a series of "Community Demands Action" meetings, one for students and one for parents. These meetings will be similar to those done by many Parent Teacher Associations around the country.
This is an important conversation that our school community must not ignore. Threats like this have become an alarming trend not only in Marin County but across the country, and are yet another source of stress and anxiety for students.
According to the Educator's School Safety Network (ESSN), "There were at least 3,380 threats against K-12 schools recorded in the 2017-18 school year, a 62 percent increase from threats in the 2016-17 school year." This recent threat was the second threat in the last two school years at SRHS alone. With teens' ever increasing use of social media, this trend seems that it will continue to rise. Although false threats continually increase, we must still take threats seriously.The basic approaches must always apply; If you see something, say something. Don't be afraid that you might be mistaken. Let the authorities investigate the threat. You may be the one who stops a tragedy.
Along with our helping to identify threats early, It is also the responsibility of administration to understand what information will help calm the fears of the community when a threat is made public. We all must understand that there are legal boundaries about which information can be released.