Kobe Bryant: Legend Forever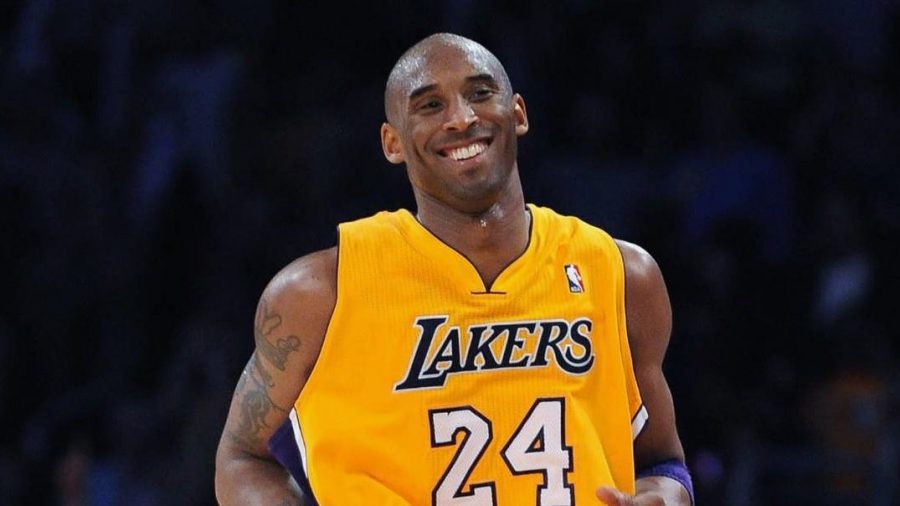 "KOBE," shouted a senior boy at SRHS as he launched a ball of paper across the classroom towards the trash can. 
Saying Kobe as you shoot miscellanies items into the trash or a basketball into a hoop is a way to imitate Kobe Bryant's ridiculous shots.
Kobe Bryant was a five time NBA championship winner and Oscar-winner. He was drafted into the NBA directly from high school onto the Los Angeles Lakers. He played on the Lakers for 20 years and retired at the age 37 after his 2015-2016 season. He married his high school sweetheart, Vanessa Bryant and they had 4 girls: Natalia, Gianna, Bianka, and Capri. 
Kobe was an unforgettable basketball player that millions of people look up to. He shockingly passed away in a devastating helicopter crash on January 26, 2020. Kobe was not the only one on the helicopter. His daughter Gianna Bryant, Orange Coast College baseball coach John Altobelli, the pilot, and five other passengers were all in the crash. They were headed to basketball camp and decided to avoid traffic by taking Kobe's helicopter. They were found on the hills near Calabasas and were declared dead shortly after.
Tweets, posts, and videos all swarmed the internet as the news spread around the world. Athletes, fans, teammates, friends, and family were all heartbroken and in shock of the unexpected tragedy that had struck. 
The day after his death, many SRHS students wore Kobe's jersey to school as a way to honor Kobe, even if they weren't Lakers fans. 
Kobe was not only one of greatest basketball players of all time, but an inspiration to people of all ages. He encouraged all athletes to fight and push themselves. 
Students at San Rafael High School were heavily impacted by Kobe's death. "I cried for like 3 days; I started playing basketball because of Kobe," said Gusavo Brum, a senior and a basketball player at SRHS, "I watched him in the 2009 finals and decided I wanted to do the same thing that he was doing. Kobe was a role model, the way he treated his family and children, he wasn't scared of anything." 
Kobe's death brought many people together. Fans brought flowers, gifts, and their condolences to his home after his death. 
Kava Taufa, a senior at SRHS and a varsity basketball player, shared how she felt his death impacted people. "I feel after the news struck people started to realize they need to cherish the time they have with the people they love the most."
There are many ways you can describe Kobe Bryant. He was a father, teammate, husband, and a basketball icon. Although all of these are facts, some would say he was overconfident as well. "Even though people would always say he was cocky, I feel like he was very humble," says Brum. "He was never satisfied with the level he was at, he always knew there was something he could improve on."  
In basketball, it seems there is always an icon at different periods in time; before Stephen Curry, it was Kobe. Andrew Simmons, an English teacher at SRHS and a basketball player, believes, "He's an iconic basketball player; every era in basketball has their own icon: Michael Jordan was an icon, Kobe was an icon. You see the way little kids imitate the icons; it is not just buying the shoes, but the way they imitate the style of play."
Kobe had more than just the skill, he had the charm, courage, and diligence which made him such a popular and idolized guy.  
On February 24, 2020 a memorial was held for Kobe Bryant at The Staples Center. Vanessa Bryant, Michael Jordan, and Shaquille O'Neal gave heartwarming speeches in front of fans and supporters. Millions of people watched and spread love to them as they gave their speech. Students at SRHS who watched the speeches were even conversing about them the next day. 
Vanessa Bryant lost both her "baby girl" and her "boo boo." She believed, "God knew they couldn't be on this earth without each other. He had to bring them home to have them together." 
Michael Jordan, a friend of Kobe Bryant and a NBA Hall of Famer, gave a heartwarming speech as well during the celebration at The Staples Center. "Everyone always wanted to talk about the comparisons between he and I," says Jordan, "I just wanted to talk about Kobe." 
The stadium did not have a dry eye in the house, the respect and warmth from everyone made the celebration so significant.
Kobe will be remembered for decades and decades and stories will be told to the generations who didn't get to watch Kobe play. He is a legend who will never die in our hearts.