Missing the Bus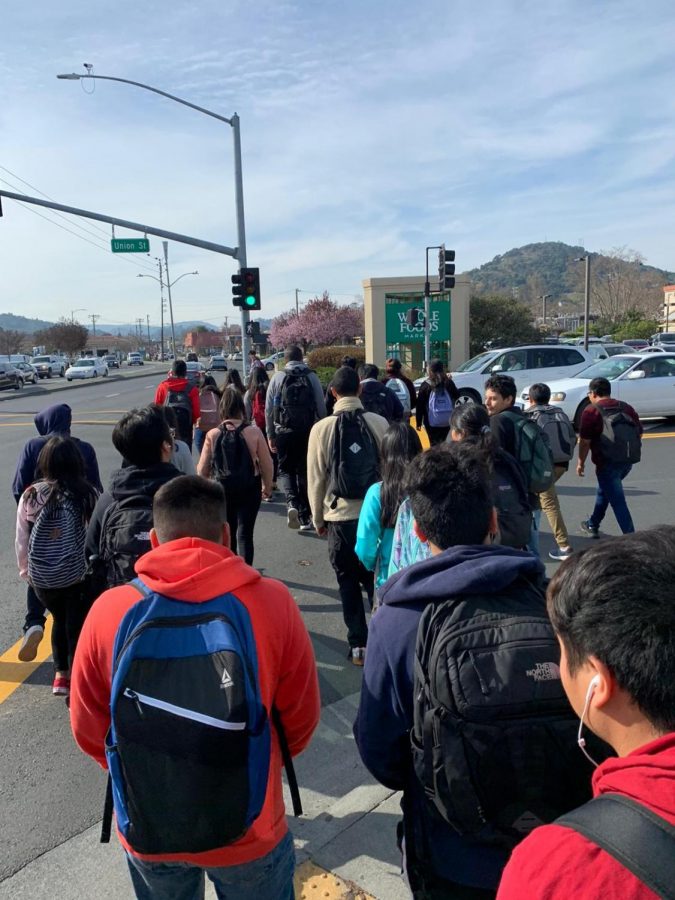 Mass amounts of San Rafael High School students can be seen walking to and from the San Rafael Transit Center before and after school everyday. Rain or shine, in frost or heat, students must walk the 20 minutes (0.6 miles) to the Transit Center in order to secure their spot on the bus back home. This might not appear far to most people, but they may have cars, may not be getting cat-called, pushed around, or almost getting hit by a car, while fighting for the last seat in the back of their mom's minivan.
About 38% of SRHS students take transit to and from school, and those are only the numbers the office has down on paper. With so many kids having to walk to transit after school, it seems logical to have another school bus pick up students from transit and take them to school and vice versa.
San Rafael High School has a total population of 1385 students as of December 5th, 2019. Of those 1385 students, about 819 students submitted free business forms that are sent out at the beginning of the year. However, only about 539 students have the free bus stickers on their student ID's. It is up to the other 280 students to go get their bus stickers from the office.
At the beginning of each school year students "receive a packet with marin transit parent eligibility for free bus pass," says Jeremie Brunet, San Rafael's Assistant Athletic Director, who is also in charge of student bussing. After the students fill out their forms they turn them back into Jeremie in the main office, who then gives them a temporary bus pass until a certain point in the semester when the students acquire their real student ID.
If you've ever driven out of the school parking lot or even around Montecito after school, you can see that it can be extremely dangerous for over 500 students to walk on a small sidewalk all at once. Some students tend to walk off of the side walk onto the street or even jaywalk in order to get to the transit or nearby bus stations. "I almost hit a few kids as I pulled out of the parking lot last week," says SRHS senior Fiona O'Neill, "Some of them were walking in the gutter and in the street," added Sophia Bokaie, another SRHS senior.
"I was walking through the crosswalk and the car didn't see us," Amairany Sanchez, SRHS senior expressed her issues with having to walk to transit. She emphasized that a lot of cars don't see the students crossing the streets and that's where a lot of accidents can happen.
Getting hit by cars is not the only issue students are facing as they walk to and from transit everyday. "I'm really worried about myself," says SRHS junior Stephanie Fayette, "Kids are always fighting behind me and you don't feel comfortable." Dana Pasos, a SRHS sophomore, believes that if another bus is not implemented that "there should at least be safety protocols put in place to help better the entire situation. Students who are walking to and from transit do need to know not to walk in the street, but 500 is way too many for those tiny sidewalks; so safety protocols are something the school should be looking into.
In a survey taken by several Avid and Compass Advisories, many of the students had issues with having to walk in the rain and cat calling.
"My papers and backpack got really wet," one student wrote.
"The sidewalks became wet and very crowded" said another.
Not just students' backpacks are getting wet; some students have to carry extra bags for extracurriculars or projects for classes, which is something buses to and from transit could fix. A few other students were concerned about "creepy guys at Transit" and getting "cat-called" both at and during the walk to the Transit Center. One SRHS cheerleader emphasized that some days, "I have to wear my uniform and people stare."
It is not so simple as to add a couple more buses to the pre existing routes. Marin Transit Operations Manager Kelly Zalewski says, "Marin Transit does not have the capacity to expand our service offering to provide dedicated routes that serve bus stops directly adjacent to San Rafael High School." Marin Transit does not have the budget or resources (buses and drivers) to take on the additional SRHS students. The budget now comes from Measure AA, where 5% is used to provide Marin County schools with Transit services.
None of the SRCS High Schools have seen school buses provided for on campus busing in over 16 years, explained San Rafael City Schools Supervisor of Public Management Lilian Perez, and is "no longer a funded program by the State." This needs to change, students need a safer way on and off campus. We need to find a solution.
Money and resources seem to be the biggest reason why Marin Transit cannot provide SRHS students with buses from the San Rafael Transit Center. Unless more buses and drivers can be provided to Marin Transit, it looks like SR students will have to continue their dangerous walks to and from Transit. In the meantime, Link Leadership is looking into working with the City and the District into finding a solution for the busing problem, as it is affecting more than several SRHS students.