"San Rafael Girl" Mora Ouneklap Strives to Make Positive Impact on School Community
Stepping into Mora Ouneklap's office you are greeted by the bright scent of eucalyptus, the sight of vibrant mandalas, and the comfort of a cushy armchair. Every object seems to have its place, its purpose, in welcoming any individual who enters. It is a sanctuary for students seeking refuge from the bustling, busy hallways and ever-piling weight of stress. 
Ouneklap was inspired to return to SRHS by her love for the community in which she grew up. She reminisces on her time at SRHS with a vivid smile on her face, recalling how she had multiple close, supportive relationships with teachers that helped make her school experience a positive one. She hopes that she can be that positive light in other student's lives, similar to how her teachers once were for her. 
"SRHS really helped me develop who I am as a person so coming back as a staff member helps me feel like I am giving back to a community that really supported me in the past."
Ouneklap grew up in San Rafael, near the Davidson Middle School campus. She attended Sun Valley Elementary, Davidson Middle School, and San Rafael High which she graduated from in 2013. She attended UC-Berkeley before working for 10,000 Degrees, a NorCal-based organization that supports low-income students through college. Now, as a graduate student, she has returned to SRHS to earn hours towards her license as a marriage and family therapist. She could have chosen any school to work for but she chose to return to SRHS. 
"I'm through and through a San Rafael girl and not planning on leaving. I love San Rafael a lot," says Ouneklap. 
Ouneklap says returning to SRHS is like coming home. She has enjoyed reconnecting with her old teachers. Standing in their classrooms feels surreal. Each day is a mini "#throwback." From homecoming to spirit days, she enjoys experiencing high school from a different perspective. However, one important person is missing.
"Mr. Castle was a huge part of my life here," Ouneklap says, "Whenever I had 1st period off I would just hang out in his office." 
Beloved SRHS music teacher, Sean Castle, tragically passed away over the summer of 2021. His sudden loss has left the community in shock. Ouneklap was part of Castle's jazz choir and wind ensemble class throughout high school. They formed a close friendship, bonding over their shared love for music. Each year, Ouneklap would write down a list of her favorite funny quotes from her friends and teachers and keep them in her yearbook.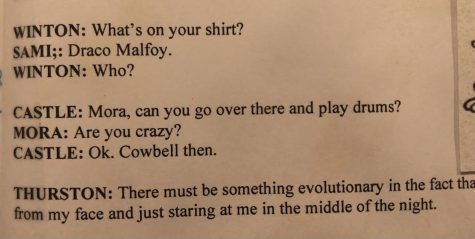 "Thank you so much for all the lovely gifts throughout the year! While I haven't officially had you in any of my classes I feel like I know you so well. I can't wait to have you in my jazz choir next year!" Castle signed on the back pages of her yearbook. 
Ouneklap cites her close relationships with her teachers as one of the leading reasons for her happiness at SRHS. Her close relationship with the SRHS community is what led her to return, to give back to a community that once gave so much to her. She has always valued building strong friendships with those around her. They have guided her throughout her life and continue to do so as she builds friendships with students through therapy. 
"I had a good experience at SR so I want to help other students have a good experience here,"  she says. 
Ouneklap has always been drawn to listening to people's stories and learning about different cultures and family dynamics. This interest is what initially inspired her to pursue a career as a therapist. 
"In therapy, I can learn so much about others while I also help them overcome certain difficulties they face," Ouneklap explains. 
Her goal at SRHS is to help alleviate, mitigate, and navigate stressful situations students face. The effect she can make on a student's life is what drives Ouneklap to continue aiming to make a positive impact on the SRHS community. She's a go-getter. 
"So far I've built relationships with some of the students I've been meeting and I'm so grateful to have been able to meet them and be part of their lives," she says. 
She reflects that she would have wanted to have someone there for her while she was going through her own struggles in high school. She hopes that she can be that person for the students at SRHS. 
Ouneklap's positivity extends outside of her work at SRHS. Kent Morales, an SRHS science teacher, recalls her eagerness to lead her swim team through challenges. Morales has known Ouneklap since she was a young girl. He was her swim coach at the YMCA and then worked as a substitute teacher at SRHS while Ouneklap was a student.
"She always just had that exuberance, she was so friendly to everybody, great at making close connections to her teammates, and always really enthusiastic. Even if it was really hard work she would encourage everyone to get on board and just make it fun for everyone," says Morales. 
He says that in some ways he still sees her as that little girl. A hard worker and an enthusiastic team member who continues to bring brightness to everyone's day.
"She still lights up the room with her smile and still is getting everybody on board to do hard work," he says.