SRHS Alum Karla Oseguera Returns to Help BIPOC Students Gain Access to College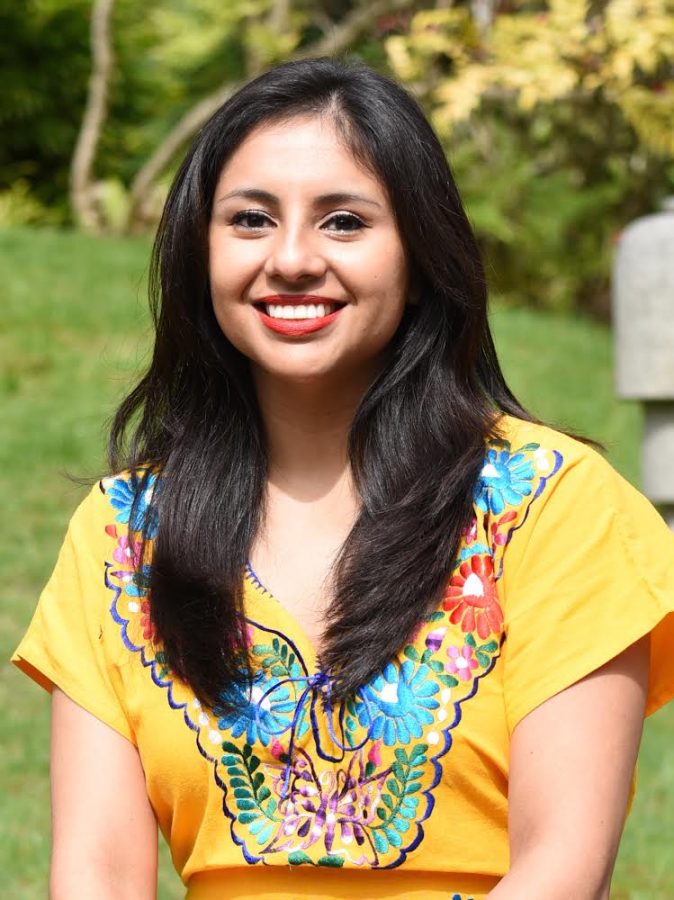 Karla Oseguera always knew she cared about helping BIPOC people and creating equal access to college, but she never thought she would make it a career. From an early age, she was interested in social justice. The idea of making things fair for all people is what attracted her to teaching.
Oseguera grew up in a very strict household. Her parents immigrated to the United States from Mexico when they were 18 and had 5 children of which Oseguera was the oldest. They attended community college in order to learn English. From a young age, she knew she had to get good grades. Her parents always expected a lot, however, they weren't always able to help her academically. This led to her internalizing that feeling of unfairness.
"I remember my dad saying, 'My job is to provide for the family and your job is to be a student,'" Oseguera said.
Although her parents weren't always able to help her with things like English or History classes, they were very supportive of her and provided her with all the tools necessary for success. They provided her with school supplies, a flat surface for her to do her homework, healthy breakfasts in the mornings, and most importantly, they set boundaries to prioritize her grades.
"They were unable to read my work or talk about the books I was reading in class, but in hindsight, the most important support I received was the belief that I could be successful in life," said Oseguera.
Growing up in Marin County, Oseguera always felt different. She attended Sun Valley Elementary School where she saw almost no one like her. She moved on to Davidson Middle School where all the elementary schools came together, and for the first time, she saw people like herself.
Oseguera is extremely proud of her Mexican parents and celebrates her ethnic culture, however, when she got to San Rafael High School she was bullied because she was seen as white. It took her a long time to process why her classmates saw her in this way even though she was "clearly brown." She realized that it was the classes she was enrolled in, advanced classes like AP and honors, that made her fit in more with her white peers. She wondered why academic success was only viewed as a "white" thing and this sparked her curiosity in how we see each other, how she saw herself, and what is really fair.
Oseguera graduated from San Rafael High School in 2006. At the time, SRHS was about 60% Latinx, which is still true today.
"I can count the [Latinx] people who went on to a four-year university. Can you imagine? Less than 10 in my class," said Oseguera.
These inequalities are what prompted her to work for Next Generation Scholars after she got her undergraduate degree at Occidental College. Next Generation Scholars is a college access program Oseguera was a part of in high school that helps first-generation students gain access to college. The program provided her with tutors and classes that helped her through high school and motivated her to apply to college.
Oseguera worked for Next Generation Scholars from 2010-2013. She was made the director of the middle school program where she was first introduced to teaching. She realized that the schools she attended in Marin were extremely lacking in BIPOC teachers. This prompted her to go to grad school at the University of San Francisco and get her teaching credential.
Originally, Oseguera wanted to be an occupational therapist. She wanted to help people with social, mental, and physical disabilities. However, when she realized how expensive that service was, she felt like she wouldn't be helping BIPOC people as much as she would like to.
"That's what is true to my heart, that's my experience, that's my culture," Oseguera said. "I felt like I had the skills to help BIPOC people so that's why I switched careers."
She first returned to Davidson Middle School to teach history. Here, she and the other 8th grade teachers asked the committee to grant them a new textbook in an effort to diversify their textbooks. Working at Davidson connected her with SRHS history teachers Mrs. Verheekee, Ms. Farrell, and Ms. Padayachee, who informed her that they would be piloting Ethnic Studies in place of World Cultures. This encouraged Oseguera to apply when she saw the teaching position open at SRHS. She now teaches 9th Grade Ethnic Studies as well as AVID 11.
Oseguera loves teaching ethnic studies because it is something that she has always been passionate about. She helps her students understand the social issues that she didn't understand when she was in high school and hopefully helps students in the same position as her. She also helps students gain access to college through her AVID class. AVID, also known as Advancement Via Individual Determination, is a program that helps to prepare students for college.
"Not only is it important to her that she prepares her students for college, but also for the college process, and the important details that come with it," said Jeydi Gomez Diaz, an SRHS junior in Oseguera's AVID 11 class. "I am extremely lucky to have Mrs. Oseguera as a teacher!"
Oseguera believes that one of the biggest factors for motivation is some form of involvement. She said that it is very important for students to have their own cheerleaders, just like her parents were for her. Something she has been growing with her students is emotional vulnerability. She is learning to listen to her students when they want to share out their emotions.
"Having supportive parents has helped me understand that our students need support in some capacity, as a teacher I wish I could offer it but there are a lot of students," said Oseguera.
"I can tell she really cares about our successes whether it be school-related, family life, or our health," said Melissa Gongora, another junior in Oseguera's AVID 11 class.
Oseguera has now been teaching for a total of 11 years, with 7 years being in a public school, and this is her first year at SRHS.
"I feel like I'm back home," said Oseguera.