The New SRHS STEAM Building Cost Eight Figures. What's Inside, and What Do Students and Teachers Think?
San Rafael High School has a new-two story STEAM building on campus. The building has been in the works for a long time. Many students have watched the progress over the last few years as the area was prepared for construction and the structure was built. The building is "preparing students for the future" as SR is "moving forward with 21st century learning," says Joe Dominguez, the principal of San Rafael High School.
Now that students and teachers have been using the building for a couple of weeks, they are expressing positive first impressions of the new STEAM spaces.
The building has added new spaces to the school, including seven more classrooms, a new ceramics studio, a new two-story fabrication lab for the school's Academy of Engineering, multiple all gender restrooms, and an outdoor courtyard. 
"All of the classrooms have led lighting and state of the art heating, ventilation, and air conditioning systems," says Daniel Zaich, the Senior Director of Capital Facilities Program. Zaich oversees the bond program to update and modernize our community's schools. He adds that "the fab lab [fabrication lab] is full of new equipment" for students to use.
Students and teachers are very excited about the new resources and the opportunities that they provide.
"The physical space that we inhabit to educate is a reflection of how we as a society value that education," says Steve Temple, a teacher in the Academy of Engineering and Technology. He compares the new fabrication lab to work spaces in professional engineering firms: "conducive to innovation, learning, communication, and collaboration." Temple feels that the new STEAM building "is representative of the very values that we want to [instill] in our students."
Zander Mercer, an SRHS senior and student in the Academy of Engineering and Technology, says that the STEAM building has "made the engineering academy so much better." Mercer is excited because there are "a lot more opportunities for building stuff, [and] more tools."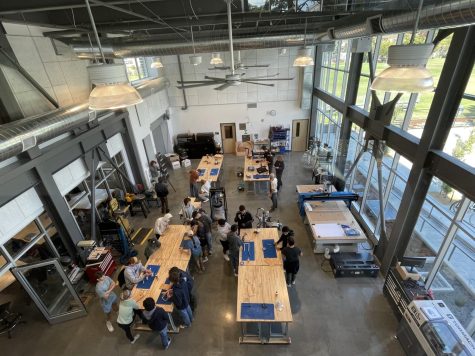 The Academy was previously in portables near the back of the school, which were "super cramped." According to Mercer, there is now "free room to openly walk around; I don't have to squeeze past people." In addition to making the area more convenient to work in, the extra space also helps keep students safe as they operate power tools and table saws. 
Rai Zelinsky Jobe, a SRHS senior, says that even though they don't have any classes in the new building, they think that "it looks really nice, and it makes the campus feel a lot better." They also said, "I really like that there are 4 or 5 all-gender bathrooms in there, I think it's great."
Johanna Herrera, the SRHS ceramics teacher, has a brand new studio in the STEAM building. Like the Academy of Engineering and Technology, before this year her classroom was in a portable near the edge of campus. Now, Herrera is excited to be closer to the center of campus, an area that she calls "downtown." "The old studio was makeshift, it was supposed to be temporary and for sure it was," says Herrera. It "had low ceilings, and it didn't have a lot of space. I'm super happy with my high ceilings, the light that's in here, the patio, and the kiln room" she says. "The lighting is better here for sure, there is hot water which is great, the electrical circuits aren't popping out, and the breakers aren't getting flipped."
However, Herrera does have a major concern about the new building. She teaches "5-6 classes, and 150-183 kids every year." As a result, "the size of this studio has been a super duper challenge."
Herrera needs space to store the student's ceramics while they are drying or not being actively worked on, and there isn't any space in the studio for storing work. She says that the school "gave me another classroom, where all the racks are, [and] that's where the kids store their work and dry their work, but I'm only promised that for one year." 
After this year, Herrera says, "I don't know what the solution is going to be." Because ceramics need to be temperature controlled and sheltered from the elements, she says that either a new area is going to have to be constructed in the patio, "or I'm going to have to be promised that room."
The new STEAM building is a result of Measure B, a bond measure that was passed by the community in 2015 with the purpose of "updating and modernizing the schools." The measure included millions of dollars for new construction projects at San Rafael High School and Terra Linda High School, including the new SRHS Admin and STEAM buildings, and repainting many of the buildings at SR. The measure cost community members $30-$60 per $100,000 of property value. 
A similar measure was voted on and passed by the community earlier this year, and will again use property taxes to fund new improvements in our community's high schools. At SR, the tentative "goal is to renovate the pool and figure out if there are any safety precautions that we need to put around the campus" according to Dominguez.
The STEAM building, many years in the making, has been very positively received by students and teachers, including those who don't have any classes inside. In addition to new classrooms and bathrooms, there are major improvements to the engineering and ceramics spaces, although storage space for ceramics work is problematic. 
Zaich says, "There will be opportunities for lots of new career paths to come out of" these new resources. According to Dominguez, this building demonstrates that "San Rafael is ready for the next chapter" in "21st century learning."
There will be a ribbon cutting ceremony for all interested community members on October 7th, at 4:00pm.