The Boy with the Game Board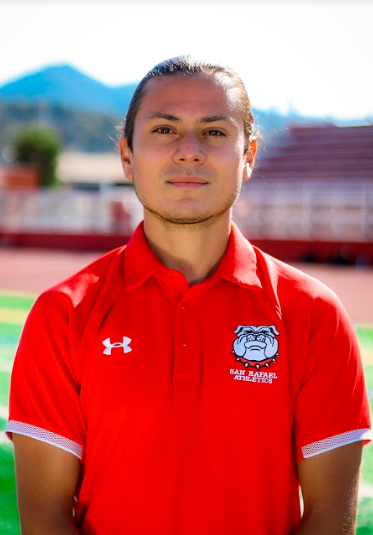 A young boy who had just recently moved to the States from El Salvador, sat alone on the bus to school fidgeting with his game board. Other students crowded around, curious to see what he was playing with. Unsure on how to communicate with them, the young boy handed them the game board, establishing his first friends and becoming known as the kid with the game board.
Edgar Hernandez carries himself with confidence and determination. On rare occasions you will see him wearing his hair down, but it is almost always slicked back into a bun.
At the age of 10, his family abruptly picked up their life in San Salvador, El Salvador and moved to San Rafael. Over the years, Edgar has immersed himself into the San Rafael community, playing soccer for the Men's Varsity team at SRHS and eventually working his way up to coaching as the head coach for the team he once played on.
Edgar, his brother, sister and parents moved to the United States because his dad had received a work transfer. "My family kind of just mentioned we are going to go somewhere," said Edgar. "It was a little unexpected."
Wilkien Alvarez, one of Edgar's childhood best friends, described Edgar as "Very quiet and shy, but once you get to know him, he is very open." He is the type of person to wear a wig to the first day of soccer tryouts to make people laugh. Humor is his way of comforting people and he has the ability to turn a serious conversation into hysterical laughter.
Edgar first got into soccer through his friends in El Salvador, but it was his Grandpa, Ruben Villanueva, who grew his love for the sport. Edgar grew up with his Grandma and Grandpa because his parents were always working. He got especially close with his Grandpa from always playing and practicing with him. Edgar said, "He was always there to support me and guide me."
Ruben Villanueva helped shape Edgar into the person he is today. Edgar has always been very family oriented because his grandpa taught him how important family is. "Thanks to him I was able to develop values such as integrity, honesty and a family first mentality."
Edgar's passion for soccer is something that helped him throughout his life. He was able to find his people through it when he first came to SR. In school, Edgar noticed a group of guys who played soccer during lunch. He wanted to join them, but did not know how to approach them, so he would just wait around the field watching. One day, Jose De La Rosa came up to him and asked if he wanted to come play. "Jose felt like he could bring me in and soccer was our way of connecting," said Edgar.
As Edgar strengthened his friendships within his small group, he started to become much more comfortable with them, which closed off his interactions with his other peers. He said, "I looked at other people like they were weird, and thought of myself as the cool kid." Edgar struggled to find people to talk to when he was not with his group, until he got put into a class with Edwin.
Edwin and Edgar were assigned to do a project together. Edgar was annoyed to have been put into a group with someone he was unfamiliar with, but he said, "Once I realized that he would do all the work, I kinda liked him." Edgar and Edwin have been best friends ever since and they have built an unbreakable brotherhood.
Nichole Caiocca, head coach of the Girls Varsity Soccer team at SRHS, first met Edgar four years ago when he started coaching at SR. "He is a super friendly person and can always make people laugh," said Caiocca. "He thinks a lot about the personnel that he has and how to get players to do what he hopes they can do."
Edgar can sit, watch and analyze the game. His passion for soccer shines through when he is up off the bench, standing on the sideline, motivating his players to push themselves.
Wilkien has been co-coaching with Edgar for the past couple of years. He said, "Edgar demands a lot from his players, but in a way that makes them want to give all they have." He inspires them and even in high pressure games, will find a way to calm them down.
Edgar has gone through the San Rafael High School experience himself. He has built roots here and developed friendships that will last a lifetime. He did not want to leave behind everything he has here in San Rafael. When the job opened up to coach at the place he was once a captain for, he could not turn down the opportunity. He already loved the sport so much and realized he would be able to share his knowledge with his players and allow them to use it. Edgar said, "What better way to give back to my community than working at the high school I went to."
Edgar Hernandez came to the United States, not knowing the language. But he quickly created a legacy for himself, becoming an influential coach players look up to.