Alum Elijah Wilson Sees a Future of Sustainable Fashion
"It's like wearable art," says Elijah Wilson. 
Elijah graduated from San Rafael High in 2020 with a high school diploma and a worthwhile side hustle: Pinnacle Gallery.
Pinnacle Gallery is Elijah's online art gallery selling a collection of handcrafted clothing he has sewn himself. Eli graduated during the Covid-19 pandemic and was going to start college at Long Beach State to study interior and industrial design in the fall of 2020. With an online start to school and Covid restrictions, he had ample time to fill. Usually, he would have been skating or hanging out with his friends, but with the pandemic causing a full lockdown he took to art. 
Usually, this twenty-year-old is strutting around in funky cargo pants and a fun tee-shirt paired with a worn backpack or bag. He usually wears his creations, giving him a unique and one-of-a-kind look. He almost always carries a skateboard and when I asked him who his greatest inspirations were when he was growing up, he responded with a list of famous skateboarders like Nyja Houston and Tony Hawk. 
Growing up, Eli was surrounded by creativity. He attended Sun Valley Elementary School, which was where he took his first art classes. He further found inspiration with classes at the Charles Schultz Museum in Santa Rosa. He fell in love with painting and ceramics; every Wednesday he and his younger sister, Georgia, would go to their grandmother's house
"My grandma is honestly one of the reasons why I like art so much," says Eli. His grandmother was his number one supporter from the start, she taught him everything he knows, from ceramics to drawing and painting. 
Walking into the house that Elijah grew up in, it is clear that art has a prominent place in the Wilson household, they have a large corner of their house dedicated to holding all of the precious supplies and pictures that help Elijah and Georgia's imagination come to light. Georgia's bedroom has her art and murals all over the walls, Georgia and Elijah have a similar passion for art; she attends Marin School of the Arts.
"I kinda always knew I wanted to do art but I guess I never thought sewing would be the thing," explains Eli.
He first started to experiment with sewing and styling during his senior year. With a lot of time on his hands, he started taking his old clothes and scraps and tried to make something with them. It was a slow start and his grandmother gave him her machine after he originally showed interest. 
"I would just watch YouTube videos and mess around until I found the style that I liked," explains Eli. 
When the mandates lifted, he started wearing his designs out of the house and in turn was flooded with compliments. "When I told them I made them, something, like, sparked. I really liked being able to say, 'Oh I made it.'"
 "I remember when he started sewing, hearing the machine run through our thin walls way into the night," recalls Georgia. Soon, he started commissioning pieces for his friends. When the "end" of quarantine rolled around, he realized that this was what he wanted to do.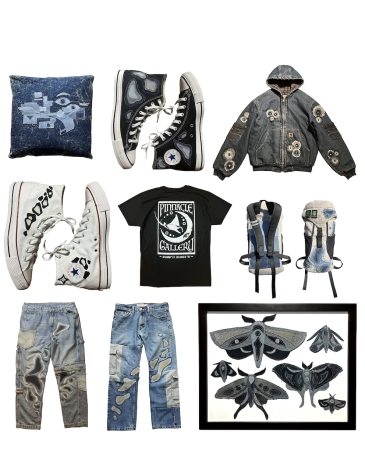 In the fall of 2021, Eli started to attend Long Beach State in person. This opened up a whole new world for him, as he was provided with Photoshop and Adobe Cloud. From there, he created his "art portfolio," initially using an Instagram account to spread the word about his creations. 
"I knew that was when his fashion was going to get the recognition it deserved," says Georgia.
Eli then created his website. He chose the word Pinnacle because it's the highest point of the mountain, the peak. He chose Gallery because, to him, it's not a clothing brand, but rather his art. 
Today, Elijah continues to attend Long Beach State as a junior, where he makes unique and original clothing pieces and sells them on his website while finishing up his studies. Right now he uses thrifted or donated clothing; his recycling makes his brand super-sustainable and environmentally conscious. 
Brands like Shein and Romwe produce around 6.3 million tons of textile waste a year, making up over 50% of a total of 11.3 million tons a year of textile waste. With fast fashion brands on the rise, the lack of concern regarding textile waste, and the environmental consequences of mass-produced clothing, we need more people like Elijah. 
Often you will see him layering different pieces of denim to make shoes or illusions, putting lighter pieces over darker ones, and mixing up shades of fabric.
In the future, Elijah wants to convert his "side hustle" into a full-on business. He wants to be his boss and freely be able to follow where his passion for art takes him. He is hopeful that he might be able to collaborate with someone in the future or work for someone who can help support and fund his passion for style.