Huckleberry Youth Program Lends a Helping Hand to SRHS Students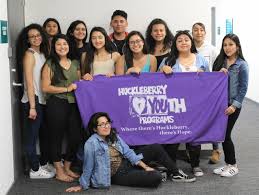 Hang on for a minute...we're trying to find some more stories you might like.
For over 20 years, Huckleberry Youth Program has offered many services to the students of San Rafael High School.
Huckleberry Youth Program has existed across the Bay Area since the 1960s. The first Huckleberry office in San Rafael was opened in Montecito Plaza in 1996. Soon enough, what was simply just a youth program that aided teens and young adults, became known as the infamous Teen Tuesday Clinic.
Because of its accessible location, teens from San Rafael High School began to use the clinic's resources. The "partnership" between Huckleberry and San Rafael High School was "gradually phased in over years… between our students going there and then they [Huckleberry] saying that it would be easier for them [SRHS students] to come to us," says Armando Oseguera, a counselor at SRHS.
Students are allowed permission to receive an off grounds pass to visit the clinic on Tuesdays just across Mission Avenue. The process by which a student is required to obtain off ground access is fairly quick.
When the student is in need of Huckleberry's resources, the student reports to the Counseling office and requests to speak to a counselor 24 hours in advance. The counselor then asks a couple of questions regarding their need for services and then refers them to Ms.Graham, the data processor. She writes the pass and instructs the students that they need to get the pass stamped by a Huckleberry official and bring it back the same day.
Ms. Graham also assures that the students' absences from their classes are not put through the system (excused) once given the stamped off grounds pass. If a student fails to return a signed pass, it will be proceeded as an unexcused absences, and as normal SRHS conduct, parents will be notified.
Freshman health classes at SRHS take a field trip down to Huckleberry's office in Montecito during the sex ed unit. This field trip informs the students about their services and how one can receive their services.
Huckleberry staff visits the health classes to speak about mental and physical health. The program includes activities and trivia about such topics.
C.J. Healy, a Physical and Health Education teacher at SRHS has worked alongside with Huckleberry for many year. She say that the Huckleberry curriculum is really good and really current, adding that the educators bring the most new and relevant information. Healy also mentions that it's "grade appropriate", making it "set" for ninth graders.
"…The icing on the cake is when we take them [SRHS freshmen] to Huckleberry and show them these same people that they've just met and learned from, work in this center which is not even a quarter mile away from the school," Healy says. "The students are able to make that connection between what they've learned, who they learned it from and then the accessibility to all these services, which our right there at their fingertips,".
In the course of a week, about 5 SRHS students visit the Teen Tuesday Clinic. Averaging out to about 180 visits in a school year to the clinic from the SRHS student body. According to the Huckleberry Youth Program website, 600+ clients attend the teen clinic annually, making it the largest adolescence clinic in Marin.
The clinic came about when Dr. Tom Peters, director of Marin's Health Dep. and Human resources met with Youth Advocates in attempts to follow through with a partnership and plan. The goal was to create a program that would provide health resources; a teen clinic.
The clinic is open to individuals ages 12-25, making it so that students ranging from middle school to college are able to use their resources.
"Huckleberry was there to offer me someone to talk to. I didn't know how to tell my parents that I needed a little extra support, and Huckleberry was there for me," states a junior from SRHS who receives counseling from Huckleberry. He also spoke about how fortunate our school is to be so close to such a great resource. "They are super welcoming and the staff there is really great about the confidential part," he adds.
Huckleberry teen clinics run off an anonymous system base. When present in the clinic, you are assigned and addressed by that number throughout the rest of your visit that day.
San Rafael High School keeps the student's visits confidential. This may sometimes conflict with the school. As Mr. Oseguera explains it, "A student can arrive at noon, but may not be helped until 2:30,". With that being said, a student could and possibly may miss a school day due to the amount of people there. The school can only do so much to avoid the raising eyebrow of a parent.
There are also cases where a student's request may be denied, but it rarely occurs. A student can claim they are attending the clinic and that may not be the case. Because the school is liable for the student, this becomes an issue of safety.
If a counselor is given the impression that a student's reasoning is not reliable enough or have been shown that they can not be trusted due to a prior incident, their request can be denied.
Huckleberry's Teen Tuesday Clinic provides several services from STD/STI testing to counseling programs. The clinic not only provides health resources but also gives aid in educational programs.
Dr. Audrey Combs, a physician at Marin Community Clinics, states that she refers a handful of students to Huckleberry to their counseling unit. She mentioned that Huckleberry offers to see students at the SRHS campus, as well as other neighbouring districts. This allows students to stay in school and not have to leave campus.
The program itself provides crisis shelters, support for trafficked youth, juvenile justice diversion and much more.
Karen Chavez, a senior at SRHS, says, "It's [Huckleberry's services] always been a really good experience." She also mentioned they never fail to make her feel welcomed and are always super understanding.
Huckleberry Youth Program has a Huckleberry Wellness Academy program that provides career training and college access. In addition, providing tutoring to the public helping students in the college process; including SAT prep, college visits, essay help, etc..
The tutoring provided to the students at SRHS from Huckleberry comes from Dominican students to mentors.
Huckleberry is a non-profit organization that has tons of people volunteering their time and dedication in order to assist the program in what ever need.
On the Huckleberry Youth Program website there is a place where donations can be made. On the 50th Anniversary Annual Report, all donors were listed in the back of the book.
Huckleberry Youth Programs has aided and served over 200,000 youths in the SF and Marin area since 1967.
Huckleberry's services not only aid San Rafael High School students, but also people from all over the Marin school districts. Although other schools may not have the benefit of having a partnership with the school and having it be so close, it does not restrain anyone from their services.
It is with services like this that the community must use to their advantage. Huckleberry has two locations in Marin both in San Rafael, one which provides the Teen Tuesday Clinic. When a SRHS student or anyone feels that the school does not provide the services they need, Huckleberry is just a brisk walk away.