SR Varsity Boys Basketball: More a Family than a Team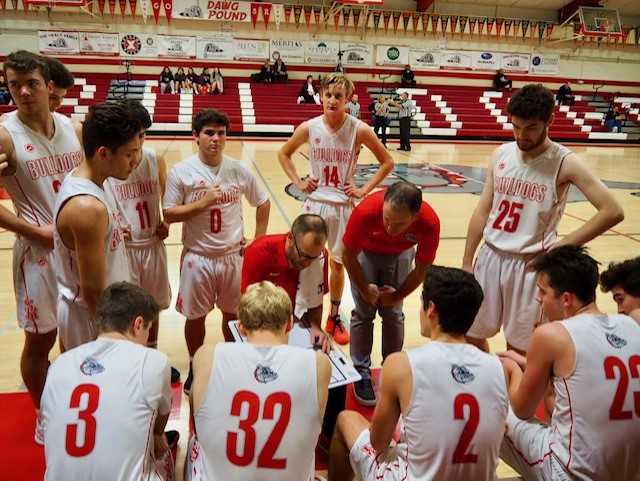 Every year, one varsity boys basketball team will win the Marin County Athletic League (MCAL) Championship.
They will celebrate, their friends will celebrate, and soon enough most people will forget that it ever happened.
Yet, their victory will be immortalized in writing, in a banner hanging from the rafters for generations of students to see.
This season, the four highest ranked teams in MCALs after sixteen games played will make playoffs and have their chance to make history.
After a long dry spell, the San Rafael Bulldogs (SR) made playoffs last year and came into this season with high hopes.
However, can they win?
League play began with a tough loss to Drake High School. This was followed up by struggles in the Bulldog Classic Tournament, where SR won a single game.
Michael Sullivan and Quint Fain, both seniors on the team, agreed these losses served as a wake-up call for many players. Bringing to life the fact that a championship is hard to win, they would have to "take" it if they wanted it.
Unfortunately, it is often hard to come to positive realizations during a bad run and the team was noticeably disappointed and low on morale after a 33-pt loss to Tamalpais made them 0-2 in MCAL play.
Jon Burgess, a senior and point guard, even described the losses as  "morale destroyer(s)."
On December 12th, this would change. SR played a very memorable and important early season matchup versus Marin Catholic (MC). Coming into the game 1-2, the Bulldogs were focused on getting to an even 2-2 record. More importantly, they needed to prove they could compete and win against solid opposition.
From the start, hounding defense forced turnovers and visibly frustrated the opposition.
In addition, three triples from Phillip Hauser – including a miracle shot that bounced off the top of the backboard before slipping through the net – proved SR's offense is no laughing matter.
The victory over MC was exactly what Coach Brett Mitchell was looking for from the team. Mitchell wants his team playing "aggressive, fast, and pressuring on defense." He wants the team to create offense from defense, a tactic he's employed as a coach before.
SR would win a third league game against Novato to start the new year, but three days later they faced Branson away from home.
Nothing but perfection would have seen Branson lose their first game of the season, and it was not meant to be as the Bulldogs fell 51-30 to the clear favorites.
At press time, a loss to second-place Redwood and a win over San Marin sees SR at 4-4, fifth in the standings behind Drake and Tam.
Both are good teams that have already beaten SR, and it will be vital for SR fans to be raising the roof against both teams in order to give the players that extra boost. SR, however, has something that many other MCAL teams do not, something that has the chance to propel them to victory this year: incredible team chemistry.
Almost all the players know each other and have played basketball together in the past, and most of the seniors of the team have been playing basketball together in some form or another for the past six years.
This gives SR a distinct and visible advantage when they are playing to their potential. Burgess can make a pass before his teammate has even arrived to the spot, knowing he will get there on time. Big-men on the team know to stay alert when Hauser attacks the rim, after years of him passing to others mid-shot. Fain knows he can kick it out to Ritthaler and he doesn't have to worry about the rebound because it's going in.
"They're a family," said Brett Mitchell, coach of the team.
Every time they go on a run, every time they get a steal, every time there's an and-one, hustle play, blocked shot, or three-pointer it is obvious that this is more than just a team.
When they get too comfortable with this fact it shows in poor defensive intensity and a bad scoreline, but when they come out with a chip on their shoulder, fighting for everything, for each other…watch out.