Eighth-Graders Should Come to SRHS (Not That Other School)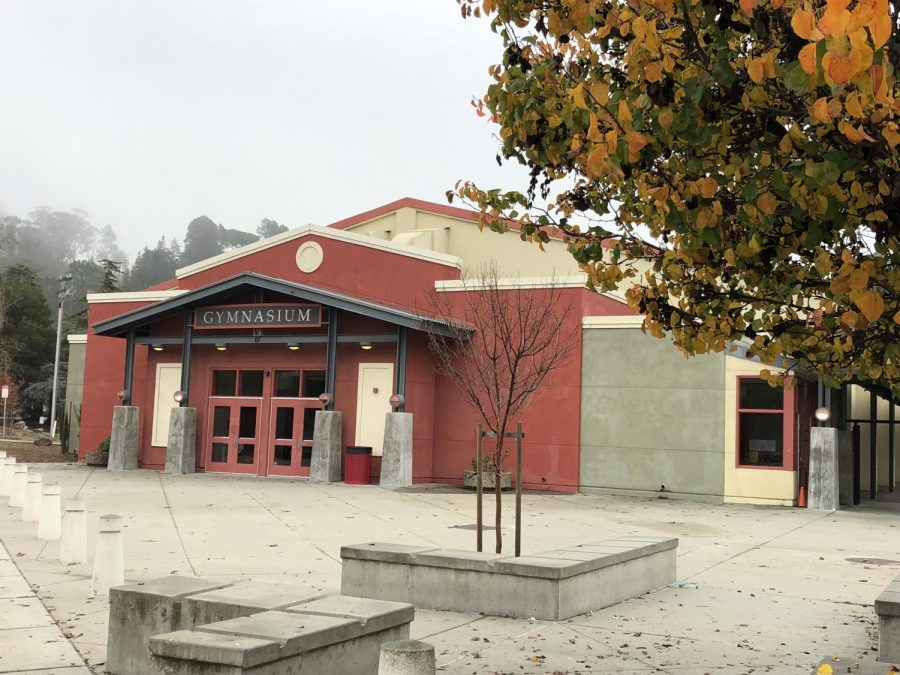 Hang on for a minute...we're trying to find some more stories you might like.
Many 8th graders that live in San Rafael or nearby wonder if they're going to miss out on anything by not attending San Rafael High School. In order to help with such a life changing decision, I am here to boast about San Rafael High School. I want to argue that San Rafael High School is better than an ordinary high school.
SRHS has a very diverse population. Because of the diversity we have developed a welcoming community with a lot of school spirit. These characteristics are enough to convince anybody that SRHS is the place to be.
Carolina Viniegra, SRHS senior, describes the diversity at SR. "When a student comes from a different country to San Rafael High School and if they don't know English or Spanish, then usually the first language they learn is Spanish because it's the first language of their friends. Also everyone is friendly."

Jimmy Rodas states, "The diversity at SRHS makes the environment energetic. The basketball games have a lot of school spirit. There is always a theme and chants. Also, you can hear the spirit of students as they stomp."
An English teacher at SRHS, Ms. Thurston, enjoys teaching at SRHS because the diversity allows her to teach a larger range of world topics. The more diverse students are the more topics students can relate to.
To make your high school experience memorable. We have many different clubs ranging from the Charity Club to the Hiking Club and even the Ping Pong Club!
This past summer, our $10 million stadium was completed with modern water fountains and bathrooms. It has lights, in fact it's the only school in Marin that has them. Sports that use the stadium are soccer, track, football and lacrosse. Those sports have games or events at night. Playing sports under the lights on a brand new field is an incredible that only SRHS offers.
San Rafael continues to have renovation. We will have a brand new student center and many other buildings.
Our most successful sport is Cross Country. They have 14 consecutive State appearances and one State title from 2010. The boys achieved two podium finishes in 2010 and 2016. Also, the cross country girls continue to have the highest grade point average in the North Coast Section for 2 straight years. I know because I am member on the team.
The athletic program here at SRHS does a great job of making sure the athletes remember that they are students first. Students must make grades in order to play on a team.To help athletes succeed SRHS has its very own athletic academic counselor. Ms.Rocha makes sure athletes get the academics support they need so they are able to particpiate in a sport while doing well academically.
Speaking of academics San Rafael offers plenty of Advanced Placement and Honors classes. Many students go to San Rafael because of two big programs: The Physics and Media Academy. Also, it offers computer science, only 10 percent of high schools offer that class in the United States.
Munir Kabbara, an SRHS alumni, describes the benefits of Physics Academy. "It's a good program because of its hands on approach to learning class experiments to discover different formulas and theories rather than memorizing laws from the textbooks," he says. "Also, I enjoyed the collaborative learning and use of modern technologies that prepared me for engineering in the real world."
Another Advantage is the block schedule. It allows students to deeply explore a concept in 90 minutes instead of the traditional schedule of 50 minute classes. Benefits for having a block schedule everyday is that it gives 48 hours to do homework for every class. It's simple because you just have to think of what class you took yesterday. The rest of the public schools in Marin have a traditional days or they have their blocks schedule periods out of order which is confusing.
The block schedule at SRHS has an advisory. Advisory is a 40 minute period that allows students to do school work and even make up exams. In advisory you get the same teacher and the same classmates for the next 4 years of high school which allows students to get know a group of students really well.
SRHS is unique because the of diverse community, academics and facilities.There are at least 20 Alumni that currently work at SRHS. They have come back to the SRHS community to devote more time of their lives to the community. SRHS Alumni give back because they remember how important this school to them. This is something extremely special and goes to shows how much of a wonderful community we really are.
SRHS is no doubt the best choice here in Marin County and those who decide to enroll won't regret it. We have a strong sense of community thanks to our diverse student body, a long list of clubs and sports, a extraordinary range of classes and programs, a supportive staff of teachers, counselors and administrators, and last but not least a adorable but mighty mascot. We'll see you next year!