Another Run-Through for SRHS Cross Country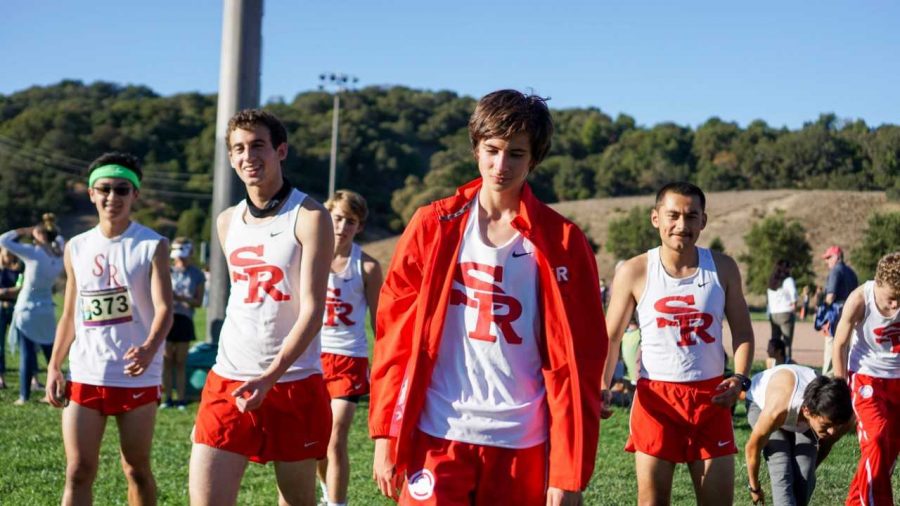 Phil Hauser, Contributor
January 29, 2019
Every day cross country runners are putting in work to gain advantages over their opponents. They train the entire year just for one final race to prove themselves. Even though their season was cut short due to natural disasters, San Rafael High School's Cross Country team had a successful season.
The season started off rough due to the loss of one of the best runners in San Rafael High's history, Munir Kabara. Munir not only represented the team by being one of the fastest runners, but he was also a great team captain. This year's team was hard-working, and during the summertime, prospective new captains began taking on greater roles and responsibilities.
Sophia and Grace Stewart, twins from the junior class, both stepped up and started to organize summer practices and team bonding events.
When asked about why she took the leadership role, Grace explained, "I liked to have a really bonded team." By dying their hair and having sleepovers, they were able to build greater team unity and cohesiveness.
Although the team worked hard and ran every day successfully improving their times, they were still missing a key piece. They needed that runner who could stand out and push the team to a limit they did not know they could reach.
After explaining this dilemma, Ms. Verheecke, the team's head coach, discussed the new member, Henry Denberg, describing his situation: "He was a transfer student who showed talent and had some good running times, but had never trained in a program." When he joined the San Rafael program, tremendous growth began. He soon became a county superstar and started to catch the eyes of other teams.
When asked to compare  his old school and SR, he said, "There was only training three to four days a week, so there was less competition and commitment." Coming to San Rafael was a new experience, but ultimately was helpful towards his goal to run in college. By his results this year, placing 34 in the state, it seems inevitable that he will accomplish this goal.
Although there was not one specific stand out on the girl's team this year, they still have high hopes for the next season. Last year they lost a majority of their team due to graduation, but this year there is only one graduating senior. They had a young team and finished in the middle of the pack for MCALs. With the upcoming offseason, they plan to train during track and the summer to hopefully place at the top of MCALs and NCS.
Kelly Abey, one of the up and coming junior runners, said, "We had a great team this year, but we were not able to recruit enough girls to build the team." A strong team greatly depends on how well you can build it. One of Kelly's goals is not only to personally improve, but also to spread the word about the cross country team throughout campus. The first step for the team was to create a running club and explain how cross country is a good cross training sport.
While the team is looking forward to next year, they will never forget the chaotic series of events that this season placed upon them. In their final MCAL race, they were ready and well-prepared to run North Coast Section and hopefully qualify for State. Unfortunately, during this time, the fires in Chico started to roar, and the air quality became a health hazard. NCS was postponed due to poor air quality. The following week they all showed up again hoping to compete. However, when they arrived, the air quality was still too unsafe, and the race was canceled. As a result, they took the personal best time of each runner during the season, and were placed based on those times, instead of running at NCS.
For both San Rafael teams, this meant they had to end their seasons without even the chance to compete.The diamond in the rough was Henry and his ability to qualify for state. This would not have been possible if it was not for his entire team supporting him and for his coaches sending him to invitationals where he pushed himself to his limits to get the best times possible.
This season, cross country runners not only individually grew, but as a team they were able to support one another and prepare for next season and their goals they are striving to achieve.