Berlin Montepeque: The One-Girl Wrestling Team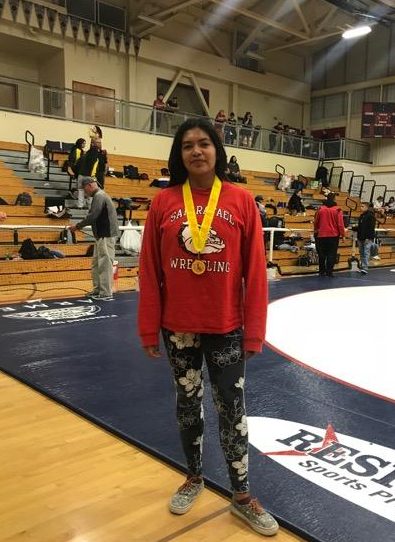 Her heart was been beating fast all day, and it seemed to get faster the closer it got to her match. She was nervous, yet excited. It was her first match at Girls' NCS. She had won fourth place last year, hoping to place again her senior year.
However, it had been a turbulent season. She had gotten hurt recently. In addition, the girls and boys programs had to be consolidated so that the boys would be able to wrestle this year. She was hopeful, though, that her season would end on a high mark.
Berlin Montepeque describes herself as aggressive and competitive. Her friends tend to describe her as "confident, spirited, and ambitious." I would describe her as passionate for her sport. Whenever we spoke about wrestling she would get a bit more excited and involved in the conversation and on the days where she came to school hurt from a game or practice she never would contemplate giving up.
While wrestling, she says she "turns game mode on and focus on my opponent." Focusing on issues she needs to overcome and her other qualities have helped her in wrestling and persevere through the troubles she has faced.
Berlin came to SRHS her sophomore year of high school and joined the girls wrestling team her junior year. She wanted to join wrestling to make friends, and she did. She also learned that she loved the sport. That first year wrestling was an amazing year for her.
She was winning matches, fundraising, helping set up the gym for the middle school girls, wrestling those outside her weight class at times, and guys as well. She does admit though that it became harder to manage her time and do her homework. Berlin started working harder during lunch to manage her time and overcame that issue.
By the end of her first year wrestling, she won the Madison Award for female wrestler of the year and came fourth at Girls' NCS. At the time, she won the Madison Award the trophy she won had a guy on it as the model something that was a bit ironic as it was an award for the female wrestler of the year.
She was already excited for next year, and to help prepare for her senior year season, she joined the varsity football team to try and get stronger. She was very hopeful for her second year wrestling.
But her senior was shaping up to be an unpredictable one. The boys wrestling team had lost their coaches and they had to consolidate the girls and boys program so that the boys could wrestle. Ziomy Coyoy coach for the wrestling team told me: "This is what that sacrifice entails: less advocacy for girls to join wrestling, no opportunity to have girls-only practices, nor girls-only wrestling trips, less female wrestlers retained, and Berlin ending up the last survivor of the girls this year."
Even though they had to consolidate the programs, Berlin was still hoping for a good last year wrestling. She wasn't too bothered about wrestling guys. She had done that before due to the limited amount of girls in wrestling in this area.
Berlin said that, "This year's wrestling season wasn't built to train me for girls and CS it was built to protect the boys wrestling program" and her coach also said, "We were training Berlin to wrestle against boys at MCALs." This put her at a disadvantage because at Girls NCS she was going against other girls not boys at MCALs.
For Berlin, the way the boys coach left and the little things like not having practices and achievements announced made her feel like her sport wasn't being recognized. She says, "I want people to recognize wrestling because that recognition hasn't been there."
Through the season the wrestling team lost a decent amount of wrestlers. By the time MCALs were starting, she was the only girl left on the team. At the time she says she "still felt like I could do well."
However, she wasn't prepared for what came next. he had hurt her ankles and knees, then her hand and face, followed by her sternum and ankles, again. This hurt her chances of doing well at Girls' NCS.
This year, sadly, Berlin did not manage to place at Girls' NCS but like her coach said: "Part of the reason why she didn't oppose wrestling the guys and having a short-lived senior wrestling year is that her legacy was so much bigger than that."
Her legacy will live on. Through her work to encourage younger girls to wrestle and through all that she has worked to achieve. Although this year she didn't win the Madison Award, she is going to be the model for the figure on the trophy. This year, they are replacing the boy figure trophy that she one with one with a girl figure.