UPDATED: Staff CPR Certification Concerns SRHS Students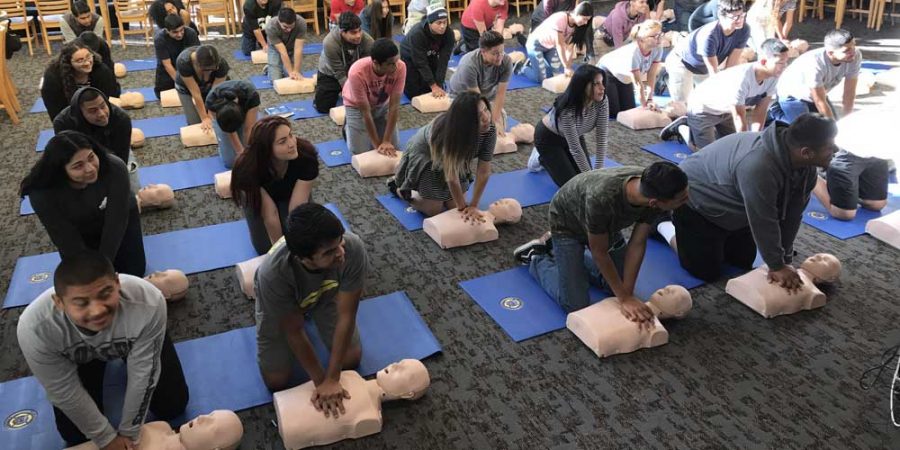 In the state of California, the Commission on Teaching Credentials states that it is necessary for all teachers (single or multiple subjects) to "provide verification of training in cardiopulmonary resuscitation (CPR) that covers infant, child, and adult CPR skills that meet the standards established by the American Heart Association or Red Cross."
So what does San Rafael High School do to ensure that teachers and staff members are CPR certified?
Earlier this school year, an incident occurred during school hours in which a student that was in the office was in need of aid. The student became unresponsive, but no one in the counseling office or main office was able to conduct CPR at that moment.
I witnessed Donnie Jo Pipkin, registrar at SRHS, come into the main office with urgency looking for Jose De La Rosa, the school's athletic director.
"Jose is the only one who knows CPR," Pipkin said. De La Rosa was not in the main office during this event. The ambulance arrived shortly after and the student was taken away to receive the needed medical attention.
If it is a required skill, then why did no one conduct CPR? Is it due to a lack of knowledge? Under the Good Samaritan law, anyone who tries to give emergency medical aid at the scene of an emergency can't be held liable, likewise someone who chooses not to can't be either.   
A CPR certification must be "refreshed" every 12-15 months, for most occupations, to be valid. How does the school keep track of whose certification is up to date? Assistant Principal Dr. Maggie Heredia noted in an interview that the school doesn't keep track of updated certification.
In fact, when I stated that teachers need a CPR certification to receive one's teaching credential, Dr. Heredia replied firmly, "CPR? No, you don't."
I explained that that is what other teachers had revealed to me and what my research had confirmed. Shaking her head, she asked, "Is that what you were thinking..? No, no."
Confidently, she typed into her laptop: "Does California Require Teachers to Have CPR Training."
After searching around and reading, still very sure of her claim, she came across a website entitled "CPR Training Requirement For California Teachers." She said, "Let's just see, I can tell you it's not California, 'cause they [San Rafael City Schools District] won't even pay for it, our district will not."
To her shocking surprise, she was, in fact, wrong about her original statement.
Not only the state but also the SRCS district requires teachers and certified staff to have current Red Cross First Aid and CPR Certification.
To answer the initial question of what does San Rafael High School do to ensure teachers and staff members are CPR certified?
"Nothing," Dr. Heredia stated.
It wasn't even known by one of our school's head administrators that it was a requirement.
Students of SRHS expressed their thoughts on the subject. Senior Catlin Chow-Ise explained, "The people who are in charge of us by law should be able to know how to save our [SRHS students] lives."
Another senior, Sofia Finnerman stated, "This school says when we're on campus, they're responsible for us, right? So if someone is in need of CPR, aren't they responsible for providing that?"
Other students such as Will Mosher, a senior at SRHS, felt otherwise.
He shared his opinion, commenting, "I don't think every teacher should have to [know CPR], but I think there should be designated people who know how to do it."
I conducted a survey amongst the SRHS student body to further understand how they feel about placing their lives in the hands of teachers and staff at SRHS. There was a representative group of 70 participants.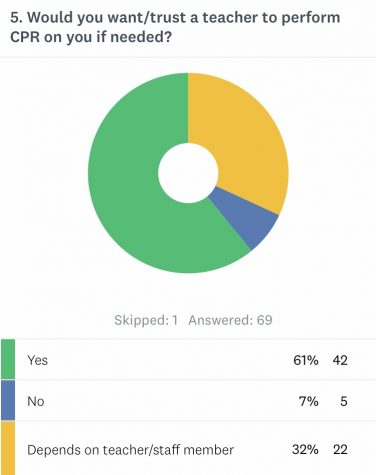 61% of the students said they would trust a teacher to perform CPR on them if needed.
If more than half of the students surveyed trust teachers' ability to perform CPR, then why aren't teachers doing their part to assure that they can perform it?
Matt Winton, a teacher of 18 years at SRHS, questioned if teachers should even be trained professionally. "We're not medical professionals," he insisted.
"I'm even surprised that no one at this school keeps track of who's, ya know… [CPR-certificaticated]," Cathy Gonzalez, the longest-working SRHS staff member and a teacher at SRHS, stated. "We're lacking in that horribly, horribly."
Gonzalez also mentioned that she wouldn't blame students if they wouldn't trust teachers to perform CPR on them. "If you asked them [teachers] what to do, they wouldn't know," she explained.
Gonzales recalls that out of her 28 years of teaching at SRHS, only once was a CPR workshop offered to the teachers. To her knowledge, that was about 10 years ago.
Parents send their students to school because they trust the staff to ensure the safety of their children.
Once informed of the incident that occurred earlier in the school year, Leonor Rojas, a mother of 2 students that attend schools in the SRCS district (including SRHS), admitted, "Well, I feel worried."
"Think of it like this: A parent confides in the school and you're knowledgeable of the lack of CPR certified teachers and staff. If a kid is to die at school, God forbid, what are they going to do?" Rojas added, "One hopes that it [CPR certification] is taken care of. It's something that's worrisome."
Editor's Note:
In case it was not clear in this article's original published form, every teacher needs CPR certification to be credentialed. At one time, every certificated staff member was proficient in CPR for that reason. A CPR certification expires after two years, and teachers are not legally bound to keep their CPR certification up to date. Some districts and schools in California choose to make doing so a requirement. Given the events outlined in this story, some students and parents may be concerned that SRHS does not.