San Rafael Police Chief Diana Bishop Has a Message for SRHS Teens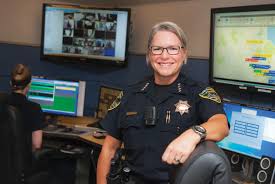 Diana Bishop reaches out her hand and gently, but with enough force, silences the beeping noise that signals the start of her day. As she lifts her head from the pillow, her hand shifts from the hushed alarm clock to a small box, which she opens and sets the square-shaped glasses upon her face. The red lights, which were blurs a minute ago, turn to numbers. Bishop lets out a long, slow sigh, she is "not a morning person," Bishop insisted several times during our time together. It is 6 a.m., and her day as Police Chief of San Rafael has just begun. 
She arrives at the station around 7:30, where she greets every person she sees with her contagious, bright smile. Her favorite part of her morning is her weekly walk to the coffee shop downtown with her captains and lieutenants. They all sit, talking about everything and anything on their minds, even fantasy football, which Bishop is not as excited about as the others. 
As the crew walks back to the station, Bishop's contagious smile reappears as she says hi to every person she passes walking down the street with her team. Greeting people is one of the best parts of her day; she is a people person and does not allow her influential position to take away from her ability to make people feel welcome and just smile. The rest of Bishop's day is filled with meetings and projects until she clocks out and hangs up her badge until the next day when she does it all over again. 
She plays more of a political role as she walks down the street. She retired as a police officer but was soon rehired as Chief of Police. Since then, she has had to put the more exciting aspects of police work on the back burner and instead take on the more official, meeting work. The office work and meetings never seem to phase Chief Bishop as she takes each one on with her cheerful smile and incredibly hard work ethic. 
Like many others, Bishop never really knew what she wanted to do with the rest of her life. She always assumed she would "be a high school coach" or "physical education teacher." So as she went off to Chico State, she "was not focused on school but rather my field hockey career." Focusing on field hockey was the case for her two years at Chico before transferring to San Jose State, where she finished up her field hockey career. 
Nevertheless, one day in the middle of her stint in San Jose, one of her friends, who was currently working for a police station in the area, asked if she would be interested in going on a ride-along. Bishop jumped at the opportunity to see her friend in action, but was unaware that this one ride-along would change the course of the rest of her life. 
The ride-along allowed Bishop to witness how "officers often work together on a call to figure out what to do using lots of teamwork," which she saw resembled her sports background. Bishop, only being 22 at the time, finally understood what she wanted to do with the rest of her life. 
She would later get hired by the Santa Clara Police Department for almost 30 years, but not before obtaining her AA from De Anza College, a bachelor's degree in public administration from the University of San Francisco, and a master's degree in Public Administration from Golden Gate University. 
Then, after almost 26 years in Santa Clara County, she was sworn in as the first female chief of Police in San Rafael in January of 2012. 
Chief Bishop seems to have all of her ducks in a row as a powerful and influential leader in the SRHS community. However, she loves to illustrate that this was once not the case. She seems to understand how many students feel about college, the stress of not knowing what they want to do with the rest of their lives, or the pressure to excel at every little thing. Bishop acknowledges, "There is nothing wrong with not knowing what you want to do as you go into college." She also seems to want teenagers to understand that "it is important to try a bunch of things in order to find out what makes you happy," so you are not stuck doing something that you do not enjoy or does not make you happy.
Chief Bishop has finally found just that. She loves her typical days filled with people, meetings, and occasional weekly trips to the coffee shop. What she loves the most is being able to wake up each and every morning, put on her shiny golden chief's badge and drive to work with her contagious smile. 
Diana Bishop's day begins to wind down. She silences her cell phone and plugs it into the long white cord in the wall, before setting it down to charge. Bishop then takes off her black-rimmed glasses and gently sets them inside their small box, which she also places upon the cool wooden nightstand. The red lights of the alarm clock begin to blur, as Diana begins to fall asleep. It is 11 p.m., and her day as Police Chief of San Rafael has come to its end.