Unified Sports Bridges the Disability Gap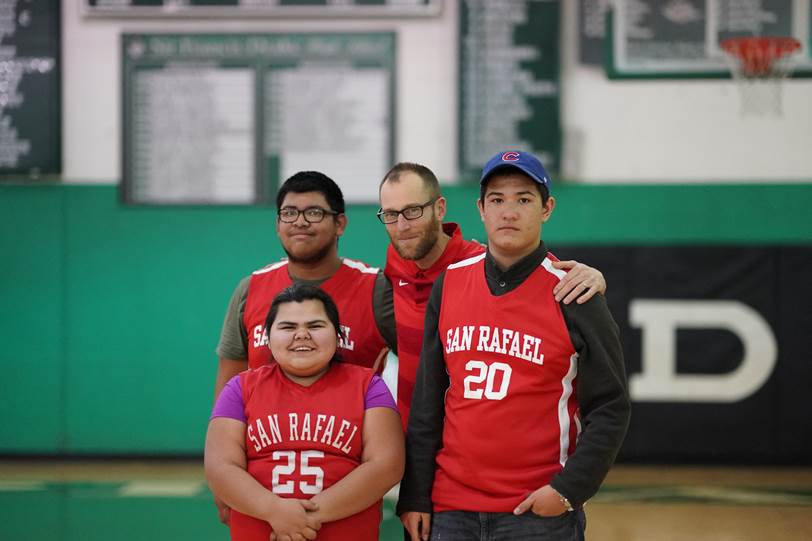 Historically, being born with an intellectual challenge forced you to live in an altogether different world than your peers. Yet, in recent years, certain Marin County schools have begun implementing Unified Sports programs. These programs allow special ed students to engage in sporting activities with their general ed peers.
During the winter basketball season, both SRHS and Drake hosted Unified Sports basketball tournaments in which Drake, Tam, Redwood, San Marin, Terra Linda, Grant Grover, and San Rafael all took part.
With players having challenges ranging from cerebral palsy to autism, these games illustrate how sports can be used to transcend social barriers. Missing the importance of these games is impossible when you witness the happiness on the face of every player and hear the excitement of the crowd on every shot.
Brett Mitchell, a special education teacher at SRHS, said the tournaments allow students to see, "you can go out with your own challenges and still compete at the best you can."
However, Unified Sports is more than just some grand idea about closing the disability gap, it's also an attempt to make the life of every person involved better. And it is working.
Jocelyn, a junior who participates in the basketball, told me she, "loves basketball" and grinning ear-to-ear added, "I feel very happy [when playing]."
Another student, Rafa, recounted his parents being "really excited" and proud of him for participating in the events.
The basketball games involve teams of five – three special ed and two general ed – running up and down the court cheered on by parents, teachers, and students. The referees are mainly for show, yet if you were to only hear the roar moments after the ball drops through the net, you may think a tightly contested playoff game was taking place.
This atmosphere and a fear of the unknown makes many of Mr. Mitchell's students nervous to join the games. However, not a single student that begins playing has regretted the decision and stopped.
"In fact," added Mr. Mitchell, "everyone who has played has wanted more games and practices."
The importance of the nationwide Unified Sports mission is often overlooked by the general public. For decades, people with disabilities have been separated from their fully capable peers, and this separation has lead to stigmatization. Think of the "r-word," which is often thrown about as a quick quip to put down someone's intelligence. However, in the disabled community, the "r-word" carries the weight of years of offensive mocking. The word acts as a reminder that a certain group of people are different and adds to the divide.
This is why, along with the Unified Sports programs, schools in Marin are participating in the "End the 'R-Word' Campaign."
Susie Bennett, the head of communications for Action on Disability and Development (ADD) International, said in an interview with journalist Elaine Hunter, "At the heart of the work of disability activists is the drive to increase the engagement of disabled people at all levels of society – within families, schools, communities, and power-holders."
With around 1.4 million people taking part in Special Olympics Unified Sports programs, this engagement is on its way. Prior to Unified Sports, Special Olympics did not advocate for the integration of non-disabled athletes with disabled athletes. However, the mission of Unified Sports changes that and will allow for increased integration and engagement in the future.
Integration between the disabled and non-disabled communities does much more than give disabled students an outlet to interact with their school community. It also allows for general ed students to grow into more accepting members of society.
Ed Zander, Assistant Director of SRCS Department of Special Education, stated the events are "humbling for general education students," and allow students to see the challenges their peers are facing.
In fact, Unified Sports has compiled statistics that show 79% of Unified Sports teammates without intellectual challenges reported an "increased understanding" of people with challenges. In addition, 83% of athletes reported having more friends without intellectual challenges after taking part in Unified Sports.
Clearly, Unified Sports is positively impacting our community, but without participation, the stigma around people with cognitive challenges will not change. That is why I encourage everyone to participate in Unified Sports. By simply attending an event you will make a difference.
However, don't take my word for it. Take the word of the students who told me in every way possible that Unified Sports was bringing extra "happiness" to their lives. Take the word of varsity basketball players who attended the tournaments and felt better off for it. Take the word of Brett Mitchell: "Even just saying 'hi' can brighten up their day."
Most importantly, engage with students with intellectual challenges, and then take your own word for the importance of bridging the gap.