How Do We Save the Environment? Ms. Pikk is the Answer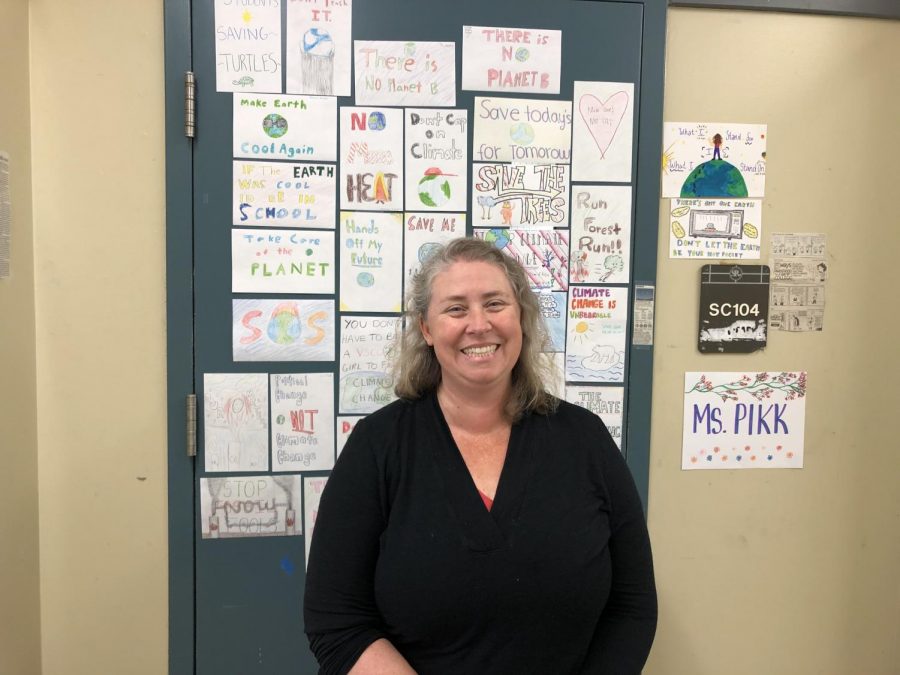 Gleaming with joy, Ms. Pikk enters her classroom eager to teach her AP environmental science students about the wonders of the environment. She never fails to enliven her students about the repetitious quizzes and reading guides that are assigned every week. 
Ms. Pikk was practically born to teach. She comes from a family of teachers. Her mom, dad, and sister all have teaching experience. She grew up in Fairfax and graduated from Drake High School. From there, she went to three different colleges: Rutgers college in New Jersey, UC Davis, and Sacramento State. 
Ms. Pikk wanted to study classical oboe, which meant majoring in music, but her father wanted her to major in geology. By the time she transferred to UC Davis she couldn't double major because the UC system had a unit limit. She would have gone over the limit if she graduated with both Music and Geology majors so she had to pick one. She ended up choosing Geology and to her surprise she fell in love with it. Who would have guessed?
Ms. Pikk is known around the school for being loving and supportive. With her signs "no place for hate" in her classroom, and her conspicuous love for Star Wars, it is no wonder why students love to swarm her classroom to talk to her. 
During my junior year I took AP environmental science, APES for short, for the sole reason being Ms. Pikk. Yes, I wanted to learn about the environment, but what persuaded me most was that I knew who the teacher was.
Ms. Pikk is a name you hear and you just smile. Johnny Vantress, a current APES student and a junior at San Rafael High School shares, "She is funny, she understands high school humor, and is easy going. She is very enthusiastic about the stuff that she talks about which makes it much more interesting. She is clearly very into the environment." Ms. Pikk is loved among many students at San Rafael and her uplifting personality makes APES an all more exciting class to take, even if there is loads of work.
As an APES teacher, Ms. Pikk doesn't just pose as an advocate for the environment when she teaches, but she has actually adapted it to the way her and her family lives. She says, "My poor kids don't get to buy anything. Anything they wanted to buy since they were two I would be like, look at all the plastic. We also don't drive a lot. If we drive it is always with a lot of people in the car. We ride our bikes everywhere. My kids walk or ride their bikes to school. I don't know if they have ever driven to school in six years."
When teaching an AP environmental science class you can have leverage to how you teach it; Ms. Pikk has her own creative and strategic ways of doing so. "In APES what I am really trying to do," says Ms. Pikk, "is to have the painful reading guides where you are exposed to the material, but then in class what I want to do is create connections, so do activities or labs or videos where you connect to that. It is more about creating a connection where YOU can connect with it."
Athena Yetnikoff, a former APES student and a senior at San Rafael High School shared how she felt about Ms. Pikk's projects, "for the end of the year project we were allowed to pick any APES topic of our choice which allowed us to explore the subject more. It was a very interesting learning experience because it was different than the typical learning style, but we were able to retain more information than if we had just done a reading guide." 
As the only APES teacher at San Rafael High School it is important that Ms. Pikk's way of teaching is effective for her students. Ms. Pikk still has her former students emailing her that took APES five years ago that just wanted her to know they had just experienced an "APES thing" and they thought of her.
Jackson Johns, another former APES student and a senior at San Rafael High School, believes Ms. Pikk has very much encouraged him to care more. "She inspired me to not allow these issues to go unnoticed and to be the generation that advocates for the environment and all the species that are in it." 
Ms. Pikk is a cherished member of the San Rafael High School community and her ability to encourage students to be excited to learn is what makes her so adored.