San Rafael's Newest Sports Program — Lacrosse — Makes the Leap to Varsity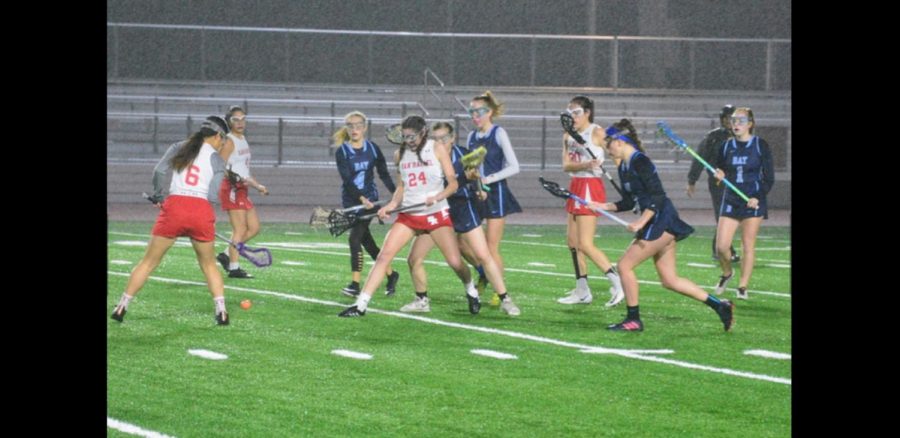 The 2019 San Rafael Girls Lacrosse squad is the newest team within the school's athletic program. A group of four players and their parents were extremely dedicated to starting the program.
One difficulty of starting a new sports program at the high school level is that the first year must be completely self-funded. The Abey, Allen, Jobe, and Davis families worked to raise money for equipment, balls, and uniforms. By writing countless emails asking for donations and support, they were able to put enough money together to provide the necessities in order to a season's worth of play.
The team was born. However, this was just the beginning of a string of challenges that the team has had to overcome.
This year, a new challenge arose: making the leap from JV to varsity. How they adjust will determine their success in the Marin County Athletic League (MCAL).
In their inaugural season playing in MCAL's junior varsity division, the team went 7-3 and finished tied for 2nd place in the league. For a brand new program, this was something to be extremely proud of. Stand-out freshman Ruby Jobe netted a league-high 40 goals, garnering praise around the league. However, this year they make the leap to varsity, where competition is much faster, and the players are more experienced. One key aspect of determining their success this year will be how well they can make the adjustment to varsity.
In their first game this season, SR played Washington (Fremont) in a pre-season NCS meeting. The girls got out to an early lead, with Izzy Allen scoring the first goal ever for the SR varsity program just 43 seconds into the game. Ruby Jobe scored a brilliant solo goal after making a run from the 50-yard line, which consisted of shaking four defenders and wrong-footing a goalie. She would go on to net a hat-trick in less than five minutes of play. This run of form continued for the Bulldogs, as they ended up beating their opponent 11-0, with Natalia Davidson recording a shut-out.
Coach Brunet noted that it was "great to get the jitters out, because all of the girls were really excited." He also mentioned how this was a good game to start with, as it sets the bar for the girls for the rest of the season. However, the skill level within MCALs is much more threatening than their preseason opponent's.
Co-captain Jackie Davis admitted that playing varsity "will be more difficult." She added, "We can do it because we have talent on the team. Hopefully, we can have the commitment to match."  
Head coach Jeremie Brunet is excited for the upcoming year. "We have a perfect mix of new blood and experience," he said.
Out of 11 players that were on the team last year, all of them are returning to play. The team also doubled their roster size by adding 11 more players, all of which have never played organized lacrosse in their lives.